Description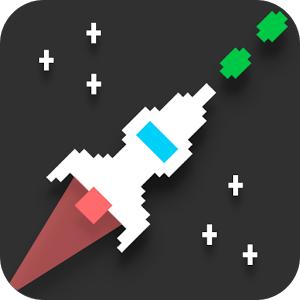 BIT BLASTER is an awesome, addictive, and fast paced arcade shoot 'em up! (shmup)
How to play:
–>Touch the screen on the left to turn left, touch the screen on the right to turn right.
–>Aim and shoot all enemies while collecting power ups and coins
–>Avoid a clash with enemies or the walls to survive as long as you can.
————————————————————————————
● Simple One Touch Controls
● 9 wicked Power ups like Split Shot, Heat seekers, and Blast Cannons.
● 7 Powerful unlockable ships to pilot with unique attributes so you can play how you like
● Endless survival (infinite) rush game play with a classic arcade style
● Cool retro pixel Graphics
● A variety of Google Play Games Achievements.
● Google Play Games Leaderboards for each ship.
● An incredibly addictive and fast survival score chaser.
● Optimized for a wide variety of phones and tablets.
● An In-App purchase allows you to remove the ads forever.
————————————————————————————
Website : http://www.nickervision.com
Twitter : https://twitter.com/nickervision
————————————————————————————
Do not hesitate to contact me if there are any problems with the game:
[email protected]
————————————————————————————
I hope you enjoy it!
————————————————————————————
Audio was provided by my mouth and some royalty free SFX from:
http://www.freesfx.co.uk
The music track in the game is "Spiff Tune – Splash" and can be found on soundcloud to download for free.
Screenshots
What's New
v1.02
*Laser sound now turns off when sound off
+New particles in background to give more depth
*Modified bounce bullet to consume more ammo (was OP)
*tightened up heat seeker code
*tightened up blast shot code
*enemy 01 now properly appears past 7500 points
*Banner ad area should now scale better
*Recoded the entire incoming enemy indication system
Thanks for playing my games and sharing with your friends!

Permission
Version 1.02 can access:
full network access
view network connections
 Size: 25MB
Version: 1.0.1
SPONSORED