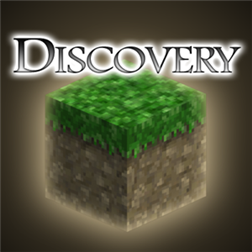 In 'Discovery' you can explore a giant world that is made of blocks and modify it with your own creations.
Construct your house, build villages, cities, monumental constructions or dig deep under the earth.
Place torches to light up your creations in the dark and enjoy beautiful sunsets or watch the stars at night.
You can upload your worlds to the CLOUD system such that other users can download them on their phones with the integrated World-Browser/Gallery.
version 1.5.0.x:
–new terrain generator now contains grass, desert and arctic biomes
–added stationary water
–added glass, sandstone, soulsand, book shelf block types
–added iron doors
SPONSORED

version 1.4.3.0:
–reduced memory consumption
–increased visibility range on all devices (but A LOT on 256mb). Medium range is now the previous Max draw range.
–fixed crash when a chunk's triangle limit is reached
version 1.4.2.x:
–fixed debug-upload crashbug introduced with 1.4.2.3
–performance improvements
–reduced memory consumption
–fixed pickaxe disapering from material belt
–changes for better debuging and finding errors
–reworked world conversion
–added periodic online check
version 1.4.1.0:
–fixed buy button not working
–fixed error on uploading of worlds that have not been opened with version > 1.4.0.0
version 1.4.0.0:
–added WorldBrowser to download worlds of other users
–added CLOUD functionality to upload/backup/restore your worlds
–added smooth lighting
*** GET IT WHILE IT'S CHEAP! ***
Features:
–smooth, high quality 3D graphics with up to 60 FPS on 1st generation phones
–realistic light and shadows
–giant world of blocks
-World Browser for sharing your worlds with others
-Backup/Cloud system
–different times of day
–atmospheric music
-TNT 🙂
More features are planned for later updates.
Publisher
noowanda
Content rating
EVERYONE
Works with
Windows Phone 8
Windows Phone 7.5
App

requires
phone

identity

owner

identity

photo

, music, and video libraries

data

services
HD720P (720×1280)
WVGA (480×800)
WXGA (768×1280)
SPONSORED