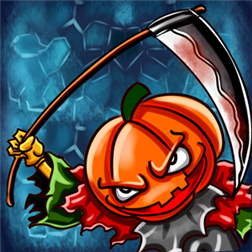 #1.1.0.0
#################################
1. Add one new theme
2. modified the UI interface
#################################
SPONSORED

Lovely Alice is lost, demon in the game want to infringe her. Bring your snowman, robot and scarecrow and protect her. A war which determines destiny will be coming soon. Epic scene, fascinating defence tower and weird demon, must make you can't put it down.
Features of game
1. Cartoon style, super-exquisite hand painting UI, individual music, make epic product.
2. Various cool defence towers: snowman, robot, scarecrow, sunflower, dice and so on.
3. Two themes, 20 stages with equisite map and 3 game models, we will update new themes every month.
4. 11 towers under special design, each of them will help you to complete missions which look be finished impossibly.
5. 300 medals will be waiting for you.
6. Upgrading tower's rank make you more play with more fun.
If come up against any problems or have any suggestion, please feel free to send email to: [email protected].
Thank for your participation!
Publisher
FireflyGames
Works with
Windows Phone 8
Windows Phone 7.5
App

requires
phone

identity

photo

, music, and video libraries

data

services

camera

HD720P (720×1280)
WVGA (480×800)
WXGA (768×1280)
SPONSORED