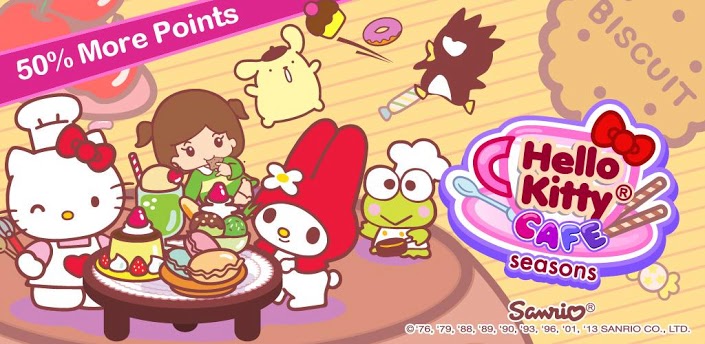 Description
=====Limited Time Offer: Get 50% more Points courtesy of Google Play and Sanrio Digital!=====**Hello Kitty Cafe Season supports both mobile phones and tablets**
Hello Kitty has just opened her own cafe, and the customers are coming from all over! Join Hello Kitty as she ventures into cafe culture in the amazingly cute Hello Kitty Cafe Seasons!
Hello Kitty Cafe Seasons is a FREE app based on addictive and engaging time-management gameplay. Help Hello Kitty run her busy establishment by handling the seating, delegating tasks to the restaurant staff, andmanaging the cafe's equipment and upgrades.
SPONSORED

Cafe Management Mayhem!
Take control of the shop, see if you can keep up with the demand, and make Hello Kitty's cozy little cafe the best in town! Test your speed and strategic planning! You must serve food to all customers quickly and efficiently in order to keep them from walking out dissatisfied. If your cafe consistently provides good food and great service, a mystery VIP guest might drop by!
A Friend in Need…
Hello Kitty can always count on her wonderful, dependable friends. Whenever Hello Kitty gets overwhelmed by customers, her friends can lend a paw. You can hire Keroppi, My Melody, Badtz Maru, Pekke, Pochacco, Lala, Kiki, and Purin as part of the cafe staff until your cafe is just bursting with cuteness. Learn how to utilize Hello Kitty's friends efficiently and train them to become exceptional restaurant workers.
Standing Room Only?
Getting overrun by an insatiable crowd? Then expand and enhance your cafe! Acquire additional seats to accommodate more patrons. Upgrading your equipment also helps reduce waiting times and customer walkouts. Remember to train your staff to become more effective and to utilize your shiny new equipment to its full potential! Finally, beef up your culinary repertoire with a variety of delectable treats to attract more patrons.
Savor the Scenery.
When it comes to fine dining, or simply a nice hot cup of coffee, the atmosphere can really set the mood. Keep Hello Kitty's locale fresh by updating the ambiance of your café. Make use of the different decor options and set themes that will turn your café into the best and the coziest in town!
**While this app is free, please be aware that it contains paid content that can be purchased for real money upon users' wish to enhance their gaming experience. You can disable in-app purchases by adjusting your device's settings. **
App Screenshots
Videos
What's New
What's in this version:
Bug Fixes
Permissions
THIS APPLICATION HAS ACCESS TO THE FOLLOWING:
YOUR LOCATION

APPROXIMATE LOCATION (NETWORK-BASED)

Allows the app to get your approximate location. This location is derived by location services using network location sources such as cell towers and Wi-Fi. These location services must be turned on and available to your device for the app to use them. Apps may use this to determine approximately where you are.

NETWORK COMMUNICATION

FULL NETWORK ACCESS

Allows the app to create network sockets and use custom network protocols. The browser and other applications provide means to send data to the internet, so this permission is not required to send data to the internet.

PHONE CALLS

READ PHONE STATUS AND IDENTITY

Allows the app to access the phone features of the device. This permission allows the app to determine the phone number and device IDs, whether a call is active, and the remote number connected by a call.

STORAGE

MODIFY OR DELETE THE CONTENTS OF YOUR USB STORAGE

Allows the app to write to the USB storage.
NETWORK COMMUNICATION

VIEW NETWORK CONNECTIONS

Allows the app to view information about network connections such as which networks exist and are connected.

VIEW WI-FI CONNECTIONS

Allows the app to view information about Wi-Fi networking, such as whether Wi-Fi is enabled and name of connected Wi-Fi devices.

SYSTEM TOOLS

TEST ACCESS TO PROTECTED STORAGE

Allows the app to test a permission for USB storage that will be available on future devices.
VERSION:1.0.1
SIZE:27M
SPONSORED