reClock: Text Clock Widget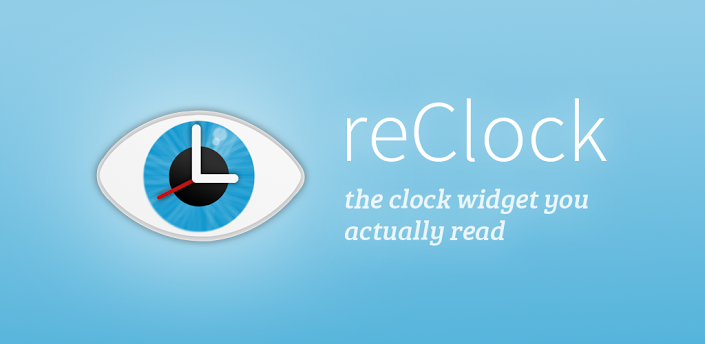 Description
reClock™ is the text clock home screen widget that you 
actually have to read
!Attention is in high remand and short supply: quite often we find ourselves missing something or having to double-check. reClock displays the current time in reference to a recent or upcoming time. The result is that you actually have to read and process the text to know what time it is!
WARNING: reClock requires simple arithmetic to know what time it is! It is NOT a glance-and-go text clock.
NOTICE: reClock is still in its early stages of development, so bugs are possible! Please let us know by sending an email to [email protected] with a description of the issue (screenshots are nice too!).
ABOUT
SPONSORED

By reading and processing the text reClock displays, your brain is actively engaged. Even reading an analog clock can become an automatic process. reClock requires us to do simple, mental, mathematical operations. Over the course of weeks, we'll remember time more often and improve our biological clocks!
REVIEWS
"LOVE doing simple math to figure out what time it's acceptable to drink beer at." – Tom Cullen
"Best Clock Widget… the design is fantastic and the concept is amazing. I actually like to check the time now!" – Nick Sarafolean
"Excellent idea! Great job done, no permissions needed and magnificent look." – Santiago Pive
"A lot of times I look at the time and 5 seconds later forget what I just saw. I'm in." – sk3litor
DESIGN
Glance at the screenshots, reClock is highly customizable! You can configure the text color, font, and stylistic arrangement of text! reClock comes with many fonts, and the ability to load font files from the SD card. It also has many styles for how to layout out the text, with more being added all the time.
DONATE
We work hard developing reClock and would really appreciate your support! As a way to say thank you, we'll unlock additional features and styles before they're available to everyone. We won't give you a trial: reClock is yours to use for all of your days. It would just be great, if finances permit, to donate (we're only asking for $1.29, much less than a cup of coffee).
PERMISSIONS
• In-app Billing: needed for the in-app Google Play Store donation.
• Read external storage: access font files on the SD card.
• Set alarm: open the "create new alarm clock" screen when the widget is clicked.
PRIVACY
That's simple, reClock does not collect ANY information, period.
CONTRIBUTE
Check out the "About reClock" section of the app (the little question mark icon). We'd love it if you could give it a positive rating. Better yet, consider the in-app donation! If you're fluent in English and another language, contact us. We'd love to localize reClock in your native language. Check out the link sand email below for more information.
Want to get all of the reClock updates? Want to beta test? Joins our Google+ Community athttps://plus.google.com/communities/110026757668250632023
If you have any questions/ comments/ suggestions/ just want to say hi, email me (please no marketing): [email protected]
SIMILAR TOOLS
• Advanced Clock Widget
• Minimalistic Text
• Beautiful Widgets
• SiMi Clock Widget
• TypoClock
• Clockr
• Ultimate custom clock (UCCW)
• Make Your Clock Widget
• DashClock
SUPPORTED LANGUAGES: English, Russian, Polish
KEYWORDS: reclock, clock, minimal, text, style, layout, home screen, widget, calendar, timezone, customization, template, keyguard, typographic, aesthetics, design, custom
App Screenshots
Videos
What's New
What's in this version:
Version: due v2
• Fix: crash on ICS, misc. bugs.
NOTE: existing widgets may become blank, remove and re-add to fix this!
Version: due v1
• New: reflection option (experimental).
• New: "center inverted" layout.
• New: background color.
• New: random layout.
• New: UI improvements.
• New: Polish translation (thanks to Lukas Hadjer).
• Fix: various bugs & spelling mistakes.
Permissions
THIS APPLICATION REQUIRES NO UNSAFE PERMISSIONS TO RUN.
SYSTEM TOOLS

TEST ACCESS TO PROTECTED STORAGE

Allows the app to test a permission for USB storage that will be available on future devices.

ALARM

SET AN ALARM

Allows the app to set an alarm in an installed alarm clock app. Some alarm clock apps may not implement this feature.
VERSION:3
SIZE:1.9M
SPONSORED