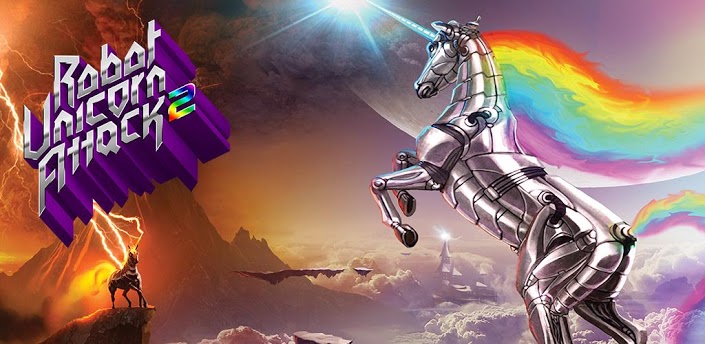 Description
"Robot Unicorn Attack 2 is happiness. It is hope. It is always. It is yours. 9.5/10" -Destructoid
"A worthy successor to the title that first spread joy and laughter throughout a dead land." -Kotaku
"Everything that made the original game so much fun is still there and untainted. This is absolutely how a sequel to a game should be done." -148Apps"Robot Unicorn Attack 2 is a wonderful follow-up and a textbook example of how sequels should be done. 4.5/5" -Modojo
"The graphics are mesmerizingly gorgeous, with all kinds of wild, trippy stuff happening in the background… It all adds up to a truly brilliant game that's incredibly fun even if you don't want to pay a cent." -Slide To PlayGet your hands on the latest, greatest, most epic installment of the Robot Unicorn Attack series to date, available for FREE!Brought to you by PikPok and Adult Swim Games, makers of "Monsters Ate My Condo!!"FEATURES:
– Choose between Team Rainbow or Team Inferno and compete on a unique level every day for prizes
– Race through 2 worlds at war, one of Rainbows and Harmony and one of Ice and Wonder
– Build and customize your very own unicorn, selecting from different bodies, manes, wings, horns, trails and more
– Unlock and arm yourself with 12 different boost abilities, including "Rainbow Savior" and "Gallow's Gallop"
– Achieve both personal and community goals, updated daily
– Battle mighty giants and dash through their dangerous Solar Beams
– Journey through such cosmic spectacles as Space Whales, Leviathan Seahorses, Ice Owls and more
– Both worlds change to new and different layouts every single day
– Personalize your quest (and support the artists) by purchasing new background songs for $.99 apiece, including Erasure's "Always"
– Full Tablet support for both 7 and 
10 inch
 tablets!
– Oh, also? You can fly now. Yeah. Yeah, man.
SPONSORED

App Screenshots
Permissions
THIS APPLICATION HAS ACCESS TO THE FOLLOWING:
NETWORK COMMUNICATION

FULL NETWORK ACCESS

Allows the app to create network sockets and use custom network protocols. The browser and other applications provide means to send data to the internet, so this permission is not required to send data to the internet.

PHONE CALLS

READ PHONE STATUS AND IDENTITY

Allows the app to access the phone features of the device. This permission allows the app to determine the phone number and device IDs, whether a call is active, and the remote number connected by a call.

STORAGE

MODIFY OR DELETE THE CONTENTS OF YOUR USB STORAGE

Allows the app to write to the USB storage.
NETWORK COMMUNICATION

VIEW NETWORK CONNECTIONS

Allows the app to view information about network connections such as which networks exist and are connected.

RECEIVE DATA FROM INTERNET

Allows apps to accept cloud to device messages sent by the app's service. Using this service will incur data usage. Malicious apps could cause excess data usage.

GOOGLE PLAY LICENSE CHECK

Google Play license check

SYSTEM TOOLS

TEST ACCESS TO PROTECTED STORAGE

Allows the app to test a permission for USB storage that will be available on future devices.

AFFECTS BATTERY

PREVENT DEVICE FROM SLEEPING

Allows the app to prevent the device from going to sleep.
Version:1.1
Size:49M
SPONSORED