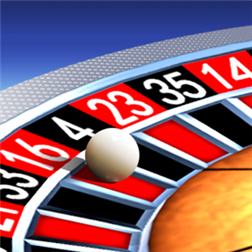 SPONSORED

Description
*** What's new in v1.2 ***
– New feature Social is added. It will be fun to invite your facebook friends to jion this game and play with you.
– Bug fixes.
A Very thrilling and interesting game AE Roulette 3D is in your phone now! Pick up your courage to spin the wheel!
Any feedback please emails us, because we can't reply on comments. Thanks very much for all your support in our games!
*** How to play***
You can place bets on either a single number or a range of numbers, colors or whether the number is odd or even then spins a ball in the opposite direction round a tilted circular track running around the circumference of the wheel. The ball eventually loses momentum and falls on to the wheel and into one of 38 colored and numbered pockets on the wheel.
Different bet places on the table bring different scale of awards to you if win.
If you like Russian Roulette, Blackjack, Slot, Video Poker, Bingo, Texas Poker, and other Card and Casino or gambling games, you should not miss this game!
Game includes:
-Impressive 3D graphics.
-Amazingly realistic physics.
-Detailed help file explains how to play roulette.
-Funny method to get free chips and bonus.
"注意使用時間,避免遊戲沉迷"
Have fun!
Screenshots
Info
Download size
23 MB
Works with
Windows Phone 8
Windows Phone 7.5
App requires
phone identity
owner identity
photo, music, and video libraries
data services
movement and directional sensor
camera
HD720P (720×1280)
WVGA (480×800)
WXGA (768×1280)
SPONSORED