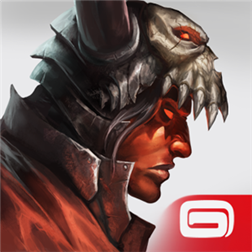 Description
Rediscover the Order & Chaos universe in this FREE collectible trading card game (TCG) that lets you battle evil forces on many adventures or fight against real players for leaderboard supremacy.
The ancient demonic spirit Zepar and his Corruption have returned to use the world as their twisted, wicked playground once again.
Create your great hero, the Card Dueler, and embody the world's only hope!
» Nearly 300 gorgeous cards to collect, with all the heroic fantasy-art style of the Order & Chaos games (MMORPG & MOBA)
» Fast & accessible duels on the go with spectacular special magic effects for the cards
» Deep content & strategy with the game mechanics of a traditional trading card game (TCG)
» Epic live and asynchronous online multiplayer games
» Quests & adventures to fight against evil and free the world of Haradon
» Optimize your deck for battle in solo & online multiplayer PvP modes
Order & Chaos Duels is a free trading card game (TCG) in a magical fantasy universe that features online mulitplayer battles (PvP). This free multiplayer TCG game will allow you to manage your deck, battle with your deck, play games online and more.
Download now for free and get on board for many exciting multiplayer games (PvP).
_____________________________________________
Visit our official site at http://www.gameloft.com
Follow us on Twitter at http://glft.co/GameloftonTwitter or like us on Facebook at http://facebook.com/Gameloft to get more info about all our upcoming titles.
Check out our videos and game trailers on http://www.youtube.com/Gameloft
Discover our blog at http://glft.co/Gameloft_Official_Blog for the inside scoop on everything Gameloft.
SPONSORED

_____________________________________________
This app allows you to purchase virtual items within the app and may contain third-party advertisements that may redirect you to a third-party site.
Terms of use: http://www.gameloft.com/conditions/
Minor bugs fixed
Screenshots
Info
Works with
Windows Phone 8.1
Windows Phone 8
App requires
phone identity
owner identity
music library
media playback
data services
push notification service
movement and directional sensor
web browser component
HD720P (720×1280)
WVGA (480×800)
WXGA (768×1280)
Supported languages (11)
DeutschEnglish (United States)Español (España, alfabetización internacional)françaisitaliano日本語한국어português (Brasil)русскийTürkçe中文(简体)
SPONSORED