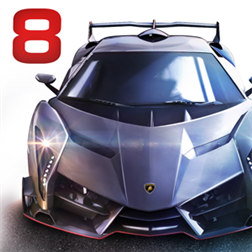 Description
*****LEAVE GRAVITY IN THE DUST*****
The best arcade racing game series reaches a new turning point! Perform dynamic, high-speed aerial stunts in an intense driving experience powered by a brand-new physics engine!
LUXURY DREAM CARS
• 47 high-performance cars (80% of them NEW!)
• Top licensed manufacturers like Lamborghini & Ferrari
• Newly recorded high-fidelity car motor sounds for realistic audio immersion
GET AIRBORNE
• Hit the ramps and take the race above
• Perform barrel rolls and wild 360º jumps
• Maneuver through the air, pulling stunts while racing
NEW EXOTIC LOCATIONS
• Race in 9 different settings like Venice, Guiana & the Nevada Desert!
• Discover plenty of hidden shortcuts
NEW FEATURES FOR SPEED FREAKS
• 8 seasons & 180 events in Career mode
• A detailed damage system
• Check out the new Infected and Drift Gate game modes
SPONSORED

SIMULTANEOUS MULTIPLAYER & GHOST CHALLENGES
• Simultaneous multiplayer action for up to 8 real opponents!
• Dare friends to asynchronous races
• New leaderboards
MUSIC TO REV YOUR SOUL
• A heart-thumping mix of amazing licensed music for your game
• Featuring real tracks from Bloc Party, Mutemath & The Crystal Method!
A game for fans of extreme arcade racing, with real dream cars and phenomenal graphics that will also please racing simulation enthusiasts.
________________________
Visit our official site at http://www.gameloft.com
Follow us on Twitter at http://glft.co/GameloftonTwitter or Like us on Facebook at http://facebook.com/Gameloft to get more info about all our upcoming titles.
Check out our videos and game trailers on http://www.youtube.com/Gameloft
Discover our blog at http://glft.co/Gameloft_Official_Blog for the inside scoop on everything Gameloft.
_______________________
This app allows you to purchase virtual items within the app and may contain third party advertisements that may redirect you to a third party site.
Terms of use: http://www.gameloft.com/conditions/
Screenshots
Info
Download size
819 MB
App requires
phone identity
data services
Proximity
push notification service
movement and directional sensor
HD720P (720×1280)
WVGA (480×800)
WXGA (768×1280)
Supported languages (11)
DeutschEnglish (United States)Español (España, alfabetización internacional)françaisitaliano日本語한국어português (Brasil)русскийTürkçe中文(简体)
SPONSORED