Description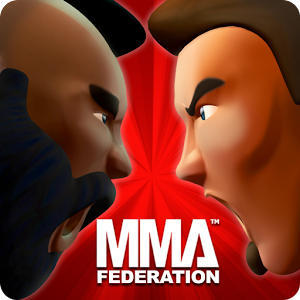 Compete in epic MMA Fights! Join genuine MMA Teams and Train with world famous Fighters and Coaches. Choose from Tristar, American Top Team, Elite MMA, SBG and many more. It's your chance to become the ultimate MMA Champion!MMA FEDERATION is a Fighting Game that throws you into an authentic world of Mixed Martial Arts. Discover turn-based gameplay that's easy to learn, difficult to master and brutally addictive!
❖ FIGHT ❖
Create your own unique fighting style. Master a multitude of Martial Arts disciplines including Muay Thai, Boxing, Wrestling and more. Dismantle opponents with your perfect fighting style!
SPONSORED

❖ ONLINE MULTIPLAYER ❖
Compete against friends in real-time fights. Advance up the leaderboards for glory and to win rewards!
❖ TRAIN & LEVEL UP ❖
Upgrade your fighting abilities in one of our real-world team gyms. Legendary Coaches such as Bas Rutten (Elite MMA) and Firas Zahabi (Tristar) will put you through your paces. Master each discipline by playing over 20 addicting mini-games. Train with some of the top fighters from American Top Team, SBG, Elite MMA and Tristar.
TRAIN.. FIGHT.. GLORY!
❖ MMA FEDERATION FEATURES ❖
➤ Compete in action packed PvP Fights.
➤ Create unique, fully customizable fighters from thousands of options.
➤ Train your own team of Kickboxers, Wrestlers, Boxers, Jiu Jitsu and Muay Thai fighters.
➤ Join your favorite real-world MMA Team. Choose from Tristar, American Top Team, SBG and more!
➤ Style your fighter in branded MMA gear from Hayabusa, Bad Boy, Fuji, JACO and Legacy.
➤ Train in many martial arts disciplines and styles, from beginner to master.
➤ Unlock hundreds of MMA moves, creating your own unique fighting style.
This app offers in-app purchases. You may restrict in-app purchasing using your device settings.
Screenshots
What's New
Training Improvements – You now only need to earn Stars and reach a specific Fighter Level to unlock the next Belt
Bug Fix – For those few whose game was hanging on the first loading screen, we have added in an additional security check which should resolve this issue.
Lots of other improvements and gameplay tweaks
Permission
Version 2.12.30 can access:
find accounts on the device
find accounts on the device
read phone status and identity
modify or delete the contents of your USB storage
read the contents of your USB storage
modify or delete the contents of your USB storage
read the contents of your USB storage
read phone status and identity
receive data from Internet
full network access
view network connections
control vibration
use accounts on the device
prevent device from sleeping
Google Play license check
Size: 26 MB
Version: 2.12.30
SPONSORED