Description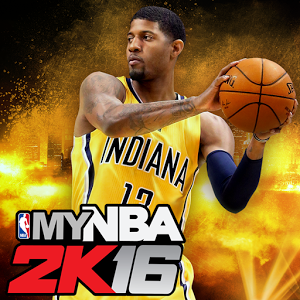 The companion app for the award-winning NBA 2K franchise is back, with MyNBA2K16. Packed with awesome new features, MyNBA2K16 makes it easier for you to stay in touch with your console version of NBA 2K16 with more opportunities to earn Virtual Currency. MyNBA2K16 also includes the collectible NBA 2K themed card game, MyTEAM Mobile, which allows players to collect their favorite NBA player cards to challenge other competitors across the world in exhibition games, season tournaments and in-game special events. This year's iteration includes more cards, card customization, and the biggest events yet! Players will also find an updated Auction House and much more social connectivity options!
MyTEAM Mobile Features
• Card Improvements – New NBA players, Bonus Player cards, card customization, specialty bonuses, enhancement rarities, level-up options to train cards faster, and much more
• Quick Game – New 2 card match-ups, more animations, and faster gameplay
• Auction House – Auction watching and opportunities for exclusives
• New Economy – Earn Reward Points (RP) daily via short and long term tasks and selling cards to the vendor for guaranteed RP.
• Expanded Social Features – Ability to friend social media and in-game contacts and chat with in-game features
MyNBA2K16 Companion Features
• Virtual Currency – more ways to earn
• MyPARK – Enhanced connection to MyPARK mode via app including chat
• MyPLAYER Store – Enhanced store options
• 2KTV – Watch episodes of 2KTV with an added interactive voting element
SPONSORED

Screenshots
 What's New
Take your deck to the next level. Star tier has arrived!
• Star tier has been added.
• Hall of Fame cards have been added.
• Ultra Rare and up All-Star cards have been added.
• New Star tier rarity Record Setter, Rookie Stars, and Throwback cards have been added.
Permission
Version 3.0.0.167159 can access:
find accounts on the device
find accounts on the device
read phone status and identity
modify or delete the contents of your USB storage
read the contents of your USB storage
modify or delete the contents of your USB storage
read the contents of your USB storage
read phone status and identity
receive data from Internet
view network connections
full network access
Google Play license check
control vibration
prevent device from sleeping
Size: 48 MB
Version:3.0.0.167159
SPONSORED