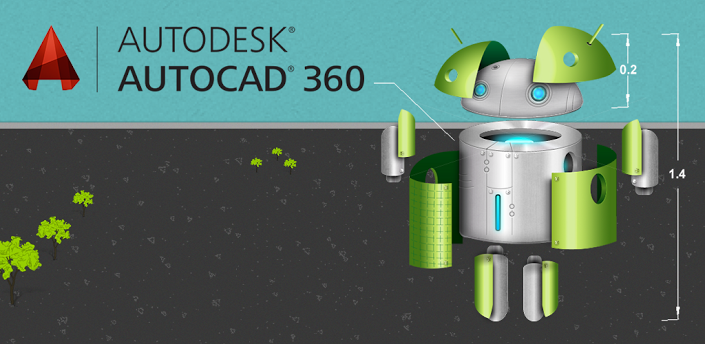 Description
Autodesk® AutoCAD 360—formerly AutoCAD WS—is the official AutoCAD® mobile app.AutoCAD 360 is a free*, easy-to-use drawing and drafting mobile app that allows you to view, edit, and share AutoCAD drawings—anytime, anywhere. Simplify site visits and fieldwork with powerful design review and markup tools—available online and offline. Seamlessly share drawings with others across desktop, web, and mobile devices. Easily access drawings from web browsers using the free companion AutoCAD 360 web app. AutoCAD 360 Pro subscription plans further expand the functionality of the app, bringing additional capabilities to the field.
View
• Open 2D and 3D DWG drawings uploaded to your free* AutoCAD 360 online account
• Work offline, then easily upload changes when you are back online
• Upload and open files directly from email on your device
• See all aspects of your DWG file, including external references, layers, and image underlays
• Use multi-touch zoom and pan to easily navigate large drawings
• Use your device's GPS to orient yourself within a drawing
Edit
• Draw and edit shapes with accuracy using Snap
• Select, move, rotate, and scale objects
• Add and edit text annotations directly on your drawing; no need for paper mark-ups
• Validate distance measurements in the drawing while you are onsite
• Save edits to your AutoCAD 360 online workspace, so your drawings stay up to date
Share
• Share your designs with others directly from the mobile app
• Add comments and images and invite responses using the Design Feed
• Print remotely from your mobile device using HP's ePrint & Share service
• Plot your designs to PDF or DWF and share them via email
SPONSORED

AutoCAD 360 Pro Subscription Plans
AutoCAD 360 is free* to download and use. AutoCAD 360 Pro subscription plans allow you to get much more out of the app, enabling:
• New drawing creation
• Larger file size support
• Connectivity to third-party storage, including Dropbox, Box, and more
• Advanced layer management
• Properties and attributes
• Block libraries
• Drawing coordinates
• Priority support
• Increased storage space
• New tools and much more
AutoCAD 360 Pro subscription plans are available in the following options:
• AutoCAD 360 Pro monthly for $4.99
• AutoCAD 360 Pro annually for $49.99 (save $9.89 vs. monthly membership)
• AutoCAD 360 Pro Plus annually for $99.99
Subscriptions will be charged to your credit card through your Google Play account. Your subscription will automatically renew unless cancelled at least 24-hours before the end of the current period. You will not be able to cancel a subscription during the active period. You can manage your subscriptions in your Account Settings after purchase.
* Free products and services are subject to the Autodesk, Inc. terms of use that accompany them.
Terms of use: http://usa.autodesk.com/adsk/servlet/item?siteID=123112&id=21310328
Privacy policy: http://usa.autodesk.com/privacy/
App Screenshots
Videos
What's New
What's in this version:
What's new in version 2.0.1
• Bug fixes
As of version 2.0, the app also includes:
• AutoCAD WS name has changed to AutoCAD 360
• New AutoCAD 360 Pro and AutoCAD 360 Pro Plus subscription plans available
• Innovative Smart Pen helps you sketch ideas much more quickly
• Support for additional dimensions, multiline text, third-party storage connectivity, and more
• Includes properties and attributes, drawing coordinates, and blocks palette
• Bug fixes and improved overall performance
Permissions
THIS APPLICATION HAS ACCESS TO THE FOLLOWING:
YOUR LOCATION

PRECISE LOCATION (GPS AND NETWORK-BASED)

Allows the app to get your precise location using the Global Positioning System (GPS) or network location sources such as cell towers and Wi-Fi. These location services must be turned on and available to your device for the app to use them. Apps may use this to determine where you are, and may consume additional battery power.

NETWORK COMMUNICATION

FULL NETWORK ACCESS

Allows the app to create network sockets and use custom network protocols. The browser and other applications provide means to send data to the internet, so this permission is not required to send data to the internet.

STORAGE

MODIFY OR DELETE THE CONTENTS OF YOUR USB STORAGE

Allows the app to write to the USB storage.

SYSTEM TOOLS

MOCK LOCATION SOURCES FOR TESTING

Create mock location sources for testing or install a new location provider. This allows the app to override the location and/or status returned by other location sources such as GPS or location providers.

YOUR APPLICATIONS INFORMATION

RETRIEVE RUNNING APPS

Allows the app to retrieve information about currently and recently running tasks. This may allow the app to discover information about which applications are used on the device.

YOUR SOCIAL INFORMATION

READ YOUR CONTACTS

Allows the app to read data about your contacts stored on your device, including the frequency with which you've called, emailed, or communicated in other ways with specific individuals. This permission allows apps to save your contact data, and malicious apps may share contact data without your knowledge.

READ CALL LOG

Allows the app to read your device's call log, including data about incoming and outgoing calls. This permission allows apps to save your call log data, and malicious apps may share call log data without your knowledge.
NETWORK COMMUNICATION

VIEW NETWORK CONNECTIONS

Allows the app to view information about network connections such as which networks exist and are connected.

RECEIVE DATA FROM INTERNET

Allows apps to accept cloud to device messages sent by the app's service. Using this service will incur data usage. Malicious apps could cause excess data usage.

SYSTEM TOOLS

TEST ACCESS TO PROTECTED STORAGE

Allows the app to test a permission for USB storage that will be available on future devices.

AFFECTS BATTERY

PREVENT DEVICE FROM SLEEPING

Allows the app to prevent the device from going to sleep.
VERSION:2.0.1
SIZE:17M
SPONSORED