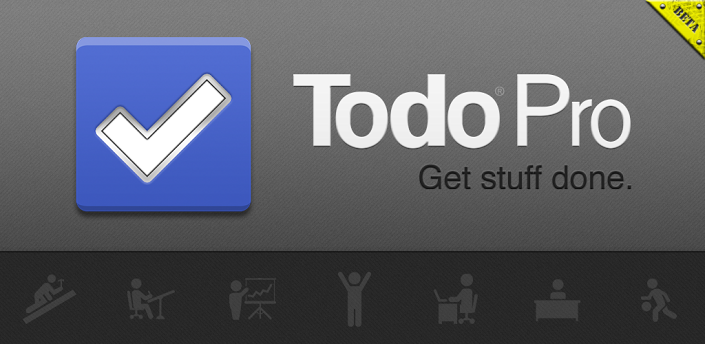 SPONSORED

Description
Todo Pro is your personal assistant and ready to help you get stuff done. Todo comes with powerful tools to tackle everything from "honey-dos" to important work projects. Pull out all the stops and create shared task lists with your colleagues; make assignments, add comments, and become a powerful team.Todo Pro is also available on iPhone, iPad, Mac, and all modern web browsers at www.todopro.com. No matter where you are or what device you're using, Todo Pro is ready to help you do something incredible.
KEY FEATURES
• Sync all your tasks across the computers and devices you use
• Create shared task lists with your family, friends, and co-workers to get things done as a team
• Add comments to tasks that will be seen by everyone in your shared task list
• Get email notifications for tasks when someone else in your shared lists makes a change
• Reply to task emails and your comments will automatically be added to the task
ESSENTIAL FEATURES
• Available on all your devices including Android, iOS, Mac, and Web.
• Location-Based Alerts (be alerted when you arrive or leave a location)
• Multiple Reminder Alerts
• Projects and Checklists (subtasks)
• Landscape Support
• Repeating Tasks
• Starred Tasks
• Quick Add Task Entry
• Manage multiple tasks at once with multi-select
• Full Calendar View for choosing Due Dates
• Contact, Email, SMS, Phone integration
• Full Task Searching including notes
• GTD support with Contexts and Tags
• Customizable App Badge Widget
• Task List Widget
Todo Pro for Android is a free client app to the Todo Pro service. Synchronizing tasks with Todo Pro is available through an auto-renewing subscription and you can always access your tasks online at www.todopro.com, even without a premium account. When you first sign up with Todo Pro, you will be given a 14 day trial.
Two subscription options:
-Todo Pro Premium monthly for $1.99
-Todo Pro Premium yearly for $19.99
EXCELLENT CUSTOMER SUPPORT
We value our customers! Feel free to help others know how this app has helped you by writing a review on the App Store. If you are looking for help or have a specific question for us, there's no way for us to reply directly to app reviews, but please send us a message by visiting our Help Center:
Appigo Help Center: http://help.appigo.com/
Todo Pro Privacy Policy: https://www.todopro.com/privacy
Todo Pro Terms of Use: https://www.todopro.com/terms
App Screenshots
Permissions
THIS APPLICATION HAS ACCESS TO THE FOLLOWING:
YOUR LOCATION

PRECISE LOCATION (GPS AND NETWORK-BASED)

Allows the app to get your precise location using the Global Positioning System (GPS) or network location sources such as cell towers and Wi-Fi. These location services must be turned on and available to your device for the app to use them. Apps may use this to determine where you are, and may consume additional battery power.

YOUR MESSAGES

SEND SMS MESSAGES

Allows the app to send SMS messages. This may result in unexpected charges. Malicious apps may cost you money by sending messages without your confirmation.

NETWORK COMMUNICATION

FULL NETWORK ACCESS

Allows the app to create network sockets and use custom network protocols. The browser and other applications provide means to send data to the internet, so this permission is not required to send data to the internet.

PHONE CALLS

DIRECTLY CALL PHONE NUMBERS

Allows the app to call phone numbers without your intervention. This may result in unexpected charges or calls. Note that this doesn't allow the app to call emergency numbers. Malicious apps may cost you money by making calls without your confirmation.

STORAGE

MODIFY OR DELETE THE CONTENTS OF YOUR USB STORAGE

Allows the app to write to the USB storage.

YOUR SOCIAL INFORMATION

READ YOUR CONTACTS

Allows the app to read data about your contacts stored on your device, including the frequency with which you've called, emailed, or communicated in other ways with specific individuals. This permission allows apps to save your contact data, and malicious apps may share contact data without your knowledge.
YOUR ACCOUNTS

READ GOOGLE SERVICE CONFIGURATION

Allows this app to read Google service configuration data.

NETWORK COMMUNICATION

VIEW NETWORK CONNECTIONS

Allows the app to view information about network connections such as which networks exist and are connected.

SYSTEM TOOLS

TEST ACCESS TO PROTECTED STORAGE

Allows the app to test a permission for USB storage that will be available on future devices.

AFFECTS BATTERY

CONTROL VIBRATION

Allows the app to control the vibrator.
VERSION:0.921
SIZE:2M
SPONSORED