Cricbuzz Cricket Scores & News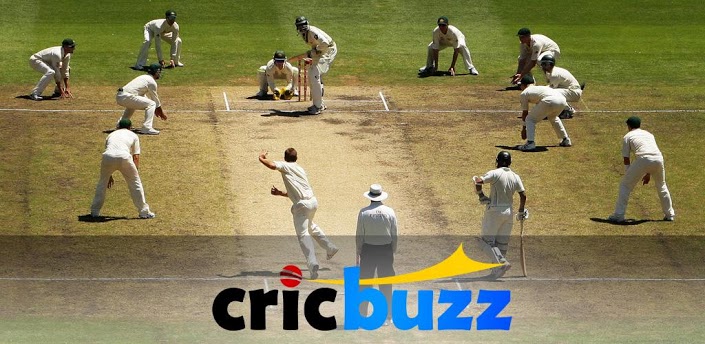 Description
Quick introduction:The No. 1 Cricket App on Google Play
Most highly rated Sports App on Google Play: Average rating of 4.7 from over 47k ratings.
Features that will blow your mind:
SPONSORED

Quick score updates and ball by ball text commentary that helps you visualize the action.
Audio commentary in English and other regional languages – if listening is your thing.
Match alerts via push notification service – so that you don't miss THE moment
Latest cricket news and editorials – to keep you posted on the latest happenings.
Upcoming matches – what's up for tomorrow, next week, next month?
Results of recent matches – in case you want to look at the scorecard of a game that you recently missed.
Series Stats Page for all ongoing series – for those obsessed with numbers
Photos – because a picture is worth a thousand words and all that.
Player profiles – Cricket is all about the players – runs, wickets and everything else.
Player and Team Rankings for ODI, Test, and T20I – If you want to know the current ranking of your favorite player.
Points tables for all major tournaments – Which team is at the top and who well get knocked out?
Share the score – Give score updates via sms/email or share the scores of Facebook/Twitter before anybody else.
Cricket On Twitter: Follow your favorite cricketers and commentators on Twitter. Reply, Re-tweet and get up close and personal with your stars.
Notes from the publisher:
Permissions: "Retrieve Running Apps" permission is required because, if the user is not looking at the widget actively (for e.g. he might using another app like Google Maps), the Cricbuzz widget will not download data, thus avoiding unnecessary data consumption. "Read Phone State And Identity" permission is required to stop the Radio commentary on Cricbuzz, if the user makes or receives a phone call, while listening to the Radio commentary.
Coming soon:
1. Missed the action? Don't fret. You will soon get to see 'Video highlights' of matches, press conferences, player interviews and lot more.
2. Ad free version of the app.
3. New multi-sized widgets
Words from mesmerized app users from across the globe:
Manish (5 stars): Very innovative. It's a perfect app for cricket lovers. It gives all features needed to know scores, schedules, commentary, players stats etc. I watch the matches on tv bt i am addicted to this app. I use this app while watching tv too.
Rajen (5 stars): The Best application. Cricket score updates are lightning quick. Truly deserves 5 stars. Love it. A must have for all cricket fanatics.
Shadab (5 stars): Super duper timepass!!! Nice app,I am loving its features and especially the audio commentary is crisp n clear and in English and Hindi too.
App Screenshots
What's New
What's in this version:
New in 2.6.0:
Series Stats Page that helps you find the highest run getter, bowler who has taken the most wickets, averages, strike rates, most hundreds, most fifties and plenty more with just the click of a button.
Fixed the news detail page scrolling issue.
Fixed other minor bugs.
New in 2.5.0:
Cricket on Twitter – Get close and personal with cricketers and experts.
Schedule page filters – Separate lists for International, Domestic and T20 Leagues.
Move to SD card option available.
Permissions
THIS APPLICATION HAS ACCESS TO THE FOLLOWING:
NETWORK COMMUNICATION

FULL NETWORK ACCESS

Allows the app to create network sockets and use custom network protocols. The browser and other applications provide means to send data to the internet, so this permission is not required to send data to the internet.

PHONE CALLS

READ PHONE STATUS AND IDENTITY

Allows the app to access the phone features of the device. This permission allows the app to determine the phone number and device IDs, whether a call is active, and the remote number connected by a call.

STORAGE

MODIFY OR DELETE THE CONTENTS OF YOUR USB STORAGE

Allows the app to write to the USB storage.

YOUR APPLICATIONS INFORMATION

RETRIEVE RUNNING APPS

Allows the app to retrieve information about currently and recently running tasks. This may allow the app to discover information about which applications are used on the device.
YOUR ACCOUNTS

FIND ACCOUNTS ON THE DEVICE

Allows the app to get the list of accounts known by the device. This may include any accounts created by applications you have installed.

NETWORK COMMUNICATION

RECEIVE DATA FROM INTERNET

Allows apps to accept cloud to device messages sent by the app's service. Using this service will incur data usage. Malicious apps could cause excess data usage.

VIEW NETWORK CONNECTIONS

Allows the app to view information about network connections such as which networks exist and are connected.

SYSTEM TOOLS

TEST ACCESS TO PROTECTED STORAGE

Allows the app to test a permission for USB storage that will be available on future devices.

AFFECTS BATTERY

PREVENT DEVICE FROM SLEEPING

Allows the app to prevent the device from going to sleep.
VERSION:2.6.0
SIZE:3.0M
SPONSORED