Documents for Android Wear
Description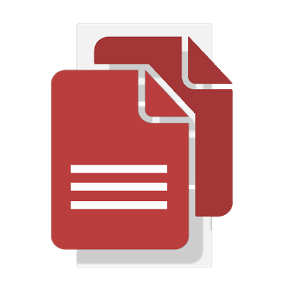 iew PDFs and other documents from your phone or Google Drive on your Android Wear smartwatch.To open a document you can:
– Start "Documents" on your smartwatch to see recently used documents from your phone or Google drive. Use the phone app to sign into your Google Drive account(s)
– Search for documents with the wearable app
– Open PDF attachments from our "Mail for Android Wear" app directly on your smartwatch
– Choose "Share with Wear Documents" on your phone to open any file directlyFeatures of the viewer:
– Minimal loading time due to incremental file loading (Android 5.x+)
– Load documents on your Android Wear smartwatch for offline viewing
– Pinch zoom, tap zoom, drag document
– Scroll down to see all document pages
– Go to specific page by tapping on the page number
– Share with Wear Mail action
– Share on your phone action
– Document details card
– Delete document action
– Open on phone action
To control the app by voice:
– In the documents list say the name of a document to search for it; say "I said…" to correct or "cancel" to cancel
– Say "open" or "go" to pick the current list item
– In the document view say the name of an action like "open on phone", "delete" or "share"
– Say "finish" to close
Note: The Free Version only shows the first document page. To view all pages in-app purchase of the Full Version is required.
SPONSORED

Supported smartwatches include all Android Wear smartwatches:
– Motorola Moto 360
– Sony Smartwatch 3
– LG G Watch
– LG G Watch R
– LG Watch Urbane
– LG Watch Urbane 2nd Edition
– ASUS ZenWatch
– ASUS ZenWatch 2
– Huawei Watch
– Samsung Gear Live
– Fossil Q Founder
– TAG Heuer Connected
Screenshots
What's New
New: 3rd party keyboards Api: TouchOne, FlickKey
Improved: Progress while loading files on watch
Older changes
New: Android Wear 6 UI style
New: Built-in speech recognition and voice actions
Permission
Version 1.0.160405 can access:
find accounts on the device
add or remove accounts
find accounts on the device
read the contents of your USB storage
modify or delete the contents of your USB storage
read the contents of your USB storage
modify or delete the contents of your USB storage
receive data from Internet
full network access
view network connections
use accounts on the device
control vibration
prevent device from sleeping
Size: 7 MB
Version: 1.0.160315
SPONSORED