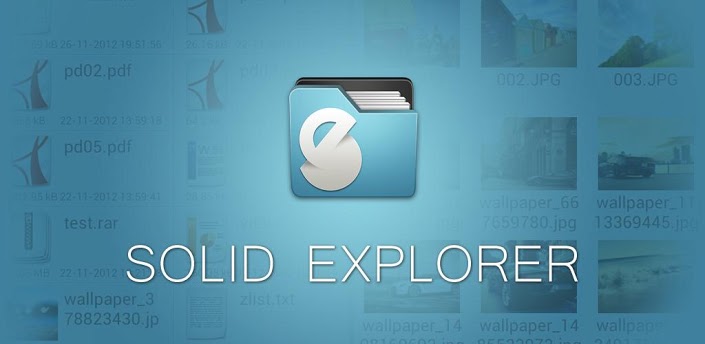 Description
Solid Explorer is a file manager with two independent panels which brings to you a new file browsing experience. This is the most attractive, eye catching and intuitive file manager for the Android.
Main features:
1. Two independent panels for browsing
2. Drag and Drop inside and between panels
3. FTP, SFTP, WebDav and SMB/CIFS clients
4. File sharing via FTP
5. Support for ZIP, TAR.GZ, TAR.BZ2 and RAR archives
6. Creating ZIP and TAR archives
7. Dropbox, Box, SkyDrive, GoogleDrive, Sugarsync, Owncloud, Yandex (more soon)
8. Bookmarks
9. Root access
10. Indexed search
11. Detailed file and directory information
You can learn about planned features in the 'About' section.
Beta builds can be found here: http://support.solidexplorer.pl/responses/updates/status/all
———————————————————
THIS IS A 14-DAY TRIAL. In order to continue using the app after this period, purchase the Solid Explorer Unlocker, but first make sure you are fully satisfied with it.
———————————————————
I want to thank all the beta testers, especially from the xda-developers forum and the people who took part in the translation project. Without you it would never come out of the beta stage. Thank you!
———————————————————
If you want to take part in translation, have a look here:http://support.solidexplorer.pl/responses/a-complete-guide-to-translate-the-application
SPONSORED

App Screenshots
What's New
What's in this version:
This is only a hot fix update, but if you are still on 1.4.3 it's recommended to install it because 1.4.5 has many new features.
1.4.6:
-fixed file sharing in AP mode
-fixed bottom bar layout on full hd screens
-fixed disappearing file list on Gingerbread
-fixed occasional problems with file copy
-fixed most frequent crashes reported by users
-updated translations
Permissions
THIS APPLICATION HAS ACCESS TO THE FOLLOWING:
NETWORK COMMUNICATION

FULL NETWORK ACCESS

Allows the app to create network sockets and use custom network protocols. The browser and other applications provide means to send data to the internet, so this permission is not required to send data to the internet.

CONNECT AND DISCONNECT FROM WI-FI

Allows the app to connect to and disconnect from Wi-Fi access points and to make changes to device configuration for Wi-Fi networks.

CONTROL NEAR FIELD COMMUNICATION

Allows the app to communicate with Near Field Communication (NFC) tags, cards, and readers.

PHONE CALLS

READ PHONE STATUS AND IDENTITY

Allows the app to access the phone features of the device. This permission allows the app to determine the phone number and device IDs, whether a call is active, and the remote number connected by a call.

STORAGE

MODIFY OR DELETE THE CONTENTS OF YOUR USB STORAGE

Allows the app to write to the USB storage.

SYSTEM TOOLS

INSTALL SHORTCUTS

Allows an app to add shortcuts without user intervention.
NETWORK COMMUNICATION

VIEW WI-FI CONNECTIONS

Allows the app to view information about Wi-Fi networking, such as whether Wi-Fi is enabled and name of connected Wi-Fi devices.

VIEW NETWORK CONNECTIONS

Allows the app to view information about network connections such as which networks exist and are connected.

SYSTEM TOOLS

MODIFY SYSTEM SETTINGS

Allows the app to modify the system's settings data. Malicious apps may corrupt your system's configuration.

TEST ACCESS TO PROTECTED STORAGE

Allows the app to test a permission for USB storage that will be available on future devices.

AFFECTS BATTERY

PREVENT DEVICE FROM SLEEPING

Allows the app to prevent the device from going to sleep.

CONTROL VIBRATION

Allows the app to control the vibrator.

WALLPAPER

SET WALLPAPER

Allows the app to set the system wallpaper.
VERSION:1.4.6
SIZE:4.6M
SPONSORED