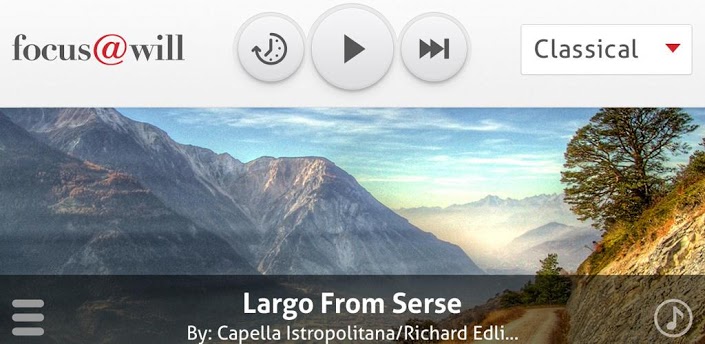 Description
[email protected]
is a new neuroscience based music service that helps increase your attention span up to 400% when working, studying, writing and reading.It's for anyone who needs to be productive on demand when working to a deadline. For instance, journalists, lawyers, students, writers and coders. Research has shown it is extremely effective for 2 out of 3 people.
There is a 3 week full access trial period, after which you can either subscribe for $3.99 per month or $34.99 per year or you may continue to use the service for free, time limited to 100 minutes per session.
App Screenshots
What's New
What's in this version:
SPONSORED

Changes for v3 – 1.03:
New splash screens
Reduced initial load time of app
Changes for v2 – 1.0.2:
Stop playback upon incoming call fix
Play nicely with audio focus/blur requests from other apps fix
Faceboook, Google+, and email login fixes
Fixed signing in showing wrong genre
Permissions
THIS APPLICATION HAS ACCESS TO THE FOLLOWING:
NETWORK COMMUNICATION

FULL NETWORK ACCESS

Allows the app to create network sockets and use custom network protocols. The browser and other applications provide means to send data to the internet, so this permission is not required to send data to the internet.

PHONE CALLS

READ PHONE STATUS AND IDENTITY

Allows the app to access the phone features of the device. This permission allows the app to determine the phone number and device IDs, whether a call is active, and the remote number connected by a call.
NETWORK COMMUNICATION

VIEW NETWORK CONNECTIONS

Allows the app to view information about network connections such as which networks exist and are connected.

AUDIO SETTINGS

CHANGE YOUR AUDIO SETTINGS

Allows the app to modify global audio settings such as volume and which speaker is used for output.
VERSION:1.0.3
SIZE:2.4M
SPONSORED