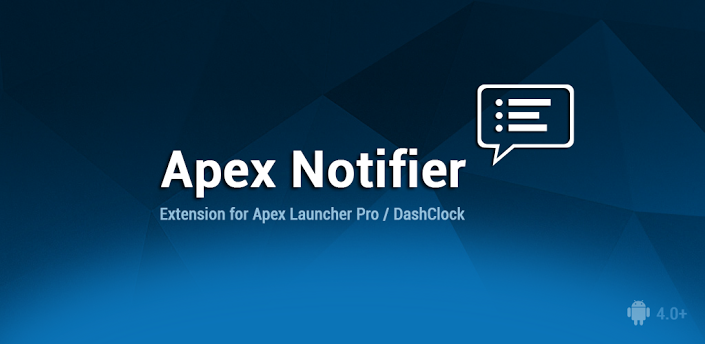 Description
Apex Notifier is an extension application for Apex Launcher Pro (2.0+) and DashClock Widget (Android 4.2+).
 It provides notification data to those applications and does nothing on its own.We decided to make the notifications feature a separate extension app for better permission management and easy integration with DashClock. With this change, we were able to remove a few sensitive permissions from Apex Launcher, so users of the free version won't have to grant those permissions.
When used with Apex Launcher Pro, unread counts will show up in badges on application icons. Please enable Apex Notifier in Apex Settings > Notification settings.
When used with DashClock Widget, Apex Notifier displays useful information from various sources. Please enable Apex Notifier in DashClock Extensions > Add Another Extension > Apex Notifier. You may enable up to 3 extensions for DashClock.
Supported Apps
• Missed Calls
• Unread SMS
• Calendar Appointments
• Gmail
• HTC Mail
• Samsung Email
• K-9/Kaiten Mail
• Battery Level
• Stock Email
• Google Talk
• Google Voice
• Starbucks
Notes
• Unread SMS provides the number of unread messages, not unread conversations.
• Gmail unread count requires Gmail version 4.0.5 or higher.
• If you update Gmail or install K-9/Kaiten Mail after installing Apex Notifier, you may have to re-install Apex Notifier to get proper permissions.
• You do not need this extension for Aqua Mail. Just turn on external notifiers in Apex Launcher Pro, and you will see the unread count badge.
• Battery level will be displayed in a numeric badge on Battery apps (the Settings app by default) in Apex Launcher Pro. Some battery settings (e.g., status, time, details) are only applicable for DashClock.
• Notification data for Email, Google Voice, and Starbucks are retrieved from widgets. Please set up your account in those apps first. Depending on how often each app refreshes its widget, data may not be updated in real time.
• Features listed under Labs are experimental and may stop working in the future.
• When used with Apex Launcher Pro, please install Apex Launcher before installing Apex Notifier.
• Apex Notifier only works with official versions of Apex Launcher Pro (2.0+). Please do not ask for support if you are using a modified or pirated version.
SPONSORED

Feature Requests
For now, only apps listed above are supported. Integration with additional apps may be implemented in the future if there is official API or public content provider. There is currently no plan to support apps that do not expose APIs (e.g., WhatsApp, KakaoTalk). It is possible to support those apps by listening to status bar notifications using an accessibility service. However, it is hacky and suffers from some known issues (with Google Now, Talkback etc.)
Developers: Apex Launcher Pro also supports notifications from other apps. Please check out the notifications API at http://goo.gl/NC8EO
App Screenshots
What's New
What's in this version:
Note: As Google replaces the Talk app with the new Hangouts app, support for Google Talk will be removed in a future update. Unfortunately, Hangouts is not supported at the moment, as it does not provide any public API or interface for retrieving notification data.
v1.2
* Fixed Kaiten Mail DashClock extension option
v1.1
* Added support for Kaiten Mail
* Improved support for unread Email
* Fixed Samsung Mail dashclock shortcut
Permissions
THIS APPLICATION HAS ACCESS TO THE FOLLOWING:
YOUR MESSAGES

READ YOUR TEXT MESSAGES (SMS OR MMS)

Allows the app to read SMS messages stored on your device or SIM card. This allows the app to read all SMS messages, regardless of content or confidentiality.

ACCESS MAIL INFORMATION

Allows the app to access information about your mail.

READ INSTANT MESSAGES

Allows apps to read data from the Google Talk content provider.

YOUR PERSONAL INFORMATION

READ CALENDAR EVENTS PLUS CONFIDENTIAL INFORMATION

Allows the app to read all calendar events stored on your device, including those of friends or co-workers. This may allow the app to share or save your calendar data, regardless of confidentiality or sensitivity.

PHONE CALLS

READ PHONE STATUS AND IDENTITY

Allows the app to access the phone features of the device. This permission allows the app to determine the phone number and device IDs, whether a call is active, and the remote number connected by a call.

SYSTEM TOOLS

READ BATTERY STATISTICS

Allows an application to read the current low-level battery use data. May allow the application to find out detailed information about which apps you use.

YOUR SOCIAL INFORMATION

READ CALL LOG

Allows the app to read your device's call log, including data about incoming and outgoing calls. This permission allows apps to save your call log data, and malicious apps may share call log data without your knowledge.

READ YOUR CONTACTS

Allows the app to read data about your contacts stored on your device, including the frequency with which you've called, emailed, or communicated in other ways with specific individuals. This permission allows apps to save your contact data, and malicious apps may share contact data without your knowledge.
YOUR ACCOUNTS

FIND ACCOUNTS ON THE DEVICE

Allows the app to get the list of accounts known by the device. This may include any accounts created by applications you have installed.
VERSION:1.2
SIZE:179k
SPONSORED