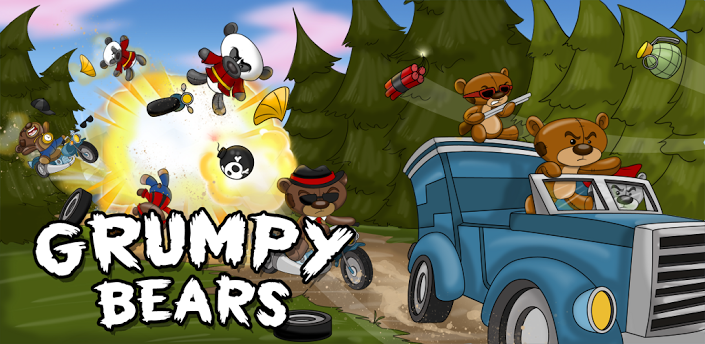 Description
There be some grumpy teddy bears in the woods, and they be wantin' your honey!Now you must defend your barrels of honey at all cost. Luckily you have a wide variety of weapons and defense systems to do just that. Being a honey delivery truck has never been so dangerous and SO FUN!
Fight off the teddy bears and put up your best defenses to keep those grumpy teddies at bay.
Huge, family fun with tons of fur and explosions.
Things you can throw at them grumpy teddy bears include:
✩ Sticks o' Dynamite
✩ Skully McGee's UberBombs
✩ Bear Seeking Grenades
✩ Dad's Pile o' Wrenches
✩ Trusty Hay Bales
✩ Molotov Cocktails
✩ Your Pet Rock (not recommended)
Also be sure to check out these crazy tools of destruction:
✮ The Electric Fence
✮ The Nuke
✮ The Hammer of Thunder
✮ The Flaming Hay Bale
SPONSORED

Teddy Bears you can unlock include:
✮ Ninja
✮ Lumberjack
✮ Panda
…and many, many more!
Good luck and have fun!
☆☆☆☆☆ "Great game to pass the time. Crazy bears…love how they taunt you and end up getting blown sky high! Definitely a fun game!"
✮✮✮✮✮ "My uncle told me about this game. BY FAR THE BEST GAME EVER!"
★★★★★ "The best FUN! All the way around…The way games were intended. Whether you're winning or losing, it really doesn't matter…you'll just keep coming back for more…A real keeper."
➤ Play Grumpy Bears today!
___________________________
Grumpy Bears is brought to you by Fluik Entertainment, makers of wicked-fun mobile games such as Office Jerk, Office Zombie and Plumber Crack. Browse all our games on Google Play – https://play.google.com/store/apps/developer?id=Fluik
Follow @FluikGames on Twitter for awesome game announcements and other updates.
NOTE:
To help keep Grumpy Bears awesome, please send any bug reports or complaints directly to us, instead of posting them in your app reviews. We can reply to app reviews on Google Play, but we're more likely to respond if you post all your bugs or suggestions on the Facebook fan page, http://www.facebook.com/GrumpyBears, or email them to us at[email protected]
App Screenshots
Videos
What's New
What's in this version:
Update 1.0.24
– Added mute button for sound effects
– fixed disappearing road
Update 1.0.23
– Fixed temporal glitch on Uber Bomb split and TNT
– Truck now drives randomly through the world
– Eliminated painful static noise in menus
Update 1.0.22
– Super long tunnels now added to game
– Addressed a wide variety of force close and crash bugs
– SAVE AND EXIT button now in game!!!
Update 1.0.21
– Last build of the week!!
– INTRODUCING GULCH ROAD, ROUTE 66 and CORNY ACRES!
Permissions
THIS APPLICATION HAS ACCESS TO THE FOLLOWING:
YOUR LOCATION

APPROXIMATE LOCATION (NETWORK-BASED)

Allows the app to get your approximate location. This location is derived by location services using network location sources such as cell towers and Wi-Fi. These location services must be turned on and available to your device for the app to use them. Apps may use this to determine approximately where you are.

NETWORK COMMUNICATION

FULL NETWORK ACCESS

Allows the app to create network sockets and use custom network protocols. The browser and other applications provide means to send data to the internet, so this permission is not required to send data to the internet.

PHONE CALLS

READ PHONE STATUS AND IDENTITY

Allows the app to access the phone features of the device. This permission allows the app to determine the phone number and device IDs, whether a call is active, and the remote number connected by a call.

STORAGE

MODIFY OR DELETE THE CONTENTS OF YOUR USB STORAGE

Allows the app to write to the USB storage.
HARDWARE CONTROLS

PREVENT DEVICE FROM SLEEPING

Allows the app to prevent the device from going to sleep.

CONTROL VIBRATION

Allows the app to control the vibrator.

NETWORK COMMUNICATION

VIEW WI-FI CONNECTIONS

Allows the app to view information about Wi-Fi networking, such as whether Wi-Fi is enabled and name of connected Wi-Fi devices.

VIEW NETWORK CONNECTIONS

Allows the app to view information about network connections such as which networks exist and are connected.

GOOGLE PLAY LICENSE CHECK

Google Play license check

RECEIVE DATA FROM INTERNET

Allows apps to accept cloud to device messages sent by the app's service. Using this service will incur data usage. Malicious apps could cause excess data usage.

SYSTEM TOOLS

TEST ACCESS TO PROTECTED STORAGE

Allows the app to test a permission for USB storage that will be available on future devices.
VERSION:1.0.24
SIZE:20M
SPONSORED