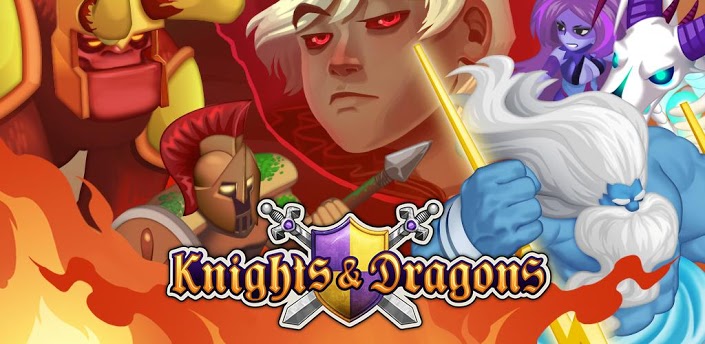 SPONSORED

Description
Knights & Dragons is an addictive combination of strategic combat and fantasy role-playing. Rise up and build your team of heroes from friends and players all over the world for deadly, fast-paced battles.Battle legendary monsters and lead your kingdom to victory! Join your friends to create an army and defeat epic bosses. Unlock hundreds of items, collect rare treasures and craft the ultimate set of armor!
Features:
• Free-to-play fantasy RPG
• Go on epic quests and adventures in uncharted realms
• Defeat legendary beasts in battle
• Team up with your friends for hours of gameplay
• Square off against players worldwide in weekly tournaments
• Unlock hundreds of knights, armor, gold, treasure, and more
• Craft the ultimate set of armor for victory
• Now supports devices running OS 2.3 Gingerbread above including tablets!
See what our players are saying about Knights & Dragons:
★★★★★
"This game is the best phone app game fully addictive and love the armour combos and pvp tournaments as well as bosses all thumbs up for this game."
★★★★★
"Addicted right out of the gate. I can spend 2 minutes on it or 5 hours."
★★★★★
"Great graphics, great concepts, an overall awesome game!"
Use of this application is governed by GREE's Terms of Service. In addition, please note that GREE respects your privacy and asks you to review the GREE Privacy Policy. The GREE Terms of Service and Privacy Policy can be found in the Legal section below as well as athttp://product.gree.net/us/en/terms/
App Screenshots
Videos
What's New
What's in this version:
What's new?
1.1.213
– Bug fixes
Permissions
THIS APPLICATION HAS ACCESS TO THE FOLLOWING:
NETWORK COMMUNICATION

FULL NETWORK ACCESS

Allows the app to create network sockets and use custom network protocols. The browser and other applications provide means to send data to the internet, so this permission is not required to send data to the internet.

CONNECT AND DISCONNECT FROM WI-FI

Allows the app to connect to and disconnect from Wi-Fi access points and to make changes to device configuration for Wi-Fi networks.

PHONE CALLS

READ PHONE STATUS AND IDENTITY

Allows the app to access the phone features of the device. This permission allows the app to determine the phone number and device IDs, whether a call is active, and the remote number connected by a call.

STORAGE

MODIFY OR DELETE THE CONTENTS OF YOUR USB STORAGE

Allows the app to write to the USB storage.

YOUR SOCIAL INFORMATION

READ YOUR CONTACTS

Allows the app to read data about your contacts stored on your device, including the frequency with which you've called, emailed, or communicated in other ways with specific individuals. This permission allows apps to save your contact data, and malicious apps may share contact data without your knowledge.
YOUR ACCOUNTS

FIND ACCOUNTS ON THE DEVICE

Allows the app to get the list of accounts known by the device. This may include any accounts created by applications you have installed.

NETWORK COMMUNICATION

VIEW WI-FI CONNECTIONS

Allows the app to view information about Wi-Fi networking, such as whether Wi-Fi is enabled and name of connected Wi-Fi devices.

RECEIVE DATA FROM INTERNET

Allows apps to accept cloud to device messages sent by the app's service. Using this service will incur data usage. Malicious apps could cause excess data usage.

VIEW NETWORK CONNECTIONS

Allows the app to view information about network connections such as which networks exist and are connected.

SYSTEM TOOLS

TEST ACCESS TO PROTECTED STORAGE

Allows the app to test a permission for USB storage that will be available on future devices.

AFFECTS BATTERY

PREVENT DEVICE FROM SLEEPING

Allows the app to prevent the device from going to sleep.
VERSION:1.1.213
SIZE:40M
SPONSORED