flayvr: photo and video albums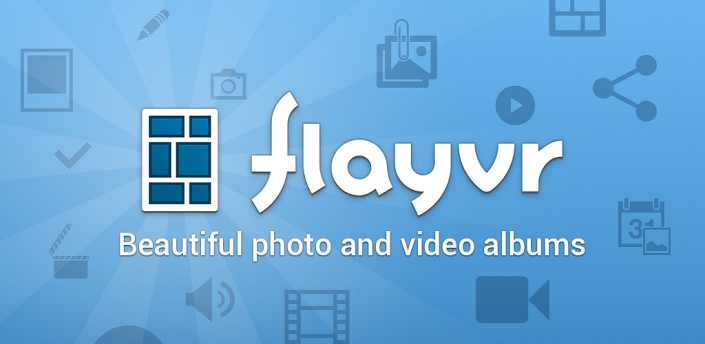 SPONSORED

Description
"flayvr is the perfect photo gallery replacement app!" (Business Insider)With flayvr, all your photos and videos are magically sorted into exciting fun albums to keep or share with friends.
flayvr puts an end to endless scrolling in your photo gallery or photo browser in search of your favorite life moments.
flayvr is the easiest way to re-experience your most precious memories. Simply keep on shooting with any Android camera and let flayvr do its magic!
flayvr also looks great on tablets 🙂
Get ready to re-experience your memories just like you remember them, with a new user-experience that's especially opitmized also for the larger tablet screens.
You'll love viewing all your photos and videos on the large screen, in portrait or in landscape view.
Here's how flayvr works:
– flayvr recognizes photos and videos taken at the same event and builds a beautiful living collage out of them
– Your flayvr timeline automatically displays all your albums, sorted by time and location.
– Share entire moments in a single tap to Email, Google +, Twitter, Facebook and SMS
Get the most out of flayvr:
★ HOURS OF FUN – Re-discover all those photos and videos you forgot about, from all your albums
★ SIMPLE – Add photos and videos to your album and hide those you don't like
★ SHARE – Share a complete event album with a single click: privately or on any social network
★ INTUITIVE – Select how you want to view your photos and videos
★ PHOTOS AND VIDEOS – Let your videos play in the background while viewing all the event photos
Additional features:
– Take photos with any Android camera and instantly view events in flayvr
– View full-screen photos in the built-in photo viewer
– View photos and videos side-by-side. It's just like you always dreamed your gallery should look like.
– Very easy to use – scans your entire gallery in a second
Your privacy is very important to us! flayvr does not copy or store your photos and videos. Only albums which you have specifically chosen to share will be uploaded.
Please note: video uploading is coming soon and will gradually be enabled for more and more devices. Please email [email protected] for further details.
flayvr is pronounced as "flavor" (or "flavour" for our UK friends). It's sometimes mistakenly spelled by users in the following ways: flyver, flyvr, flayver, flavyr, flavr.
App Screenshots
Videos
What's New
What's in this version:
Wow, thanks so much everyone for the warm welcome to Google Play!
We've listened to your requests and are excited to offer you a major new update:
– Tablets are now fully supported with a dedicated user interface. It looks great 🙂
– Landscape mode support
– Added thumbnails presenting all photos and videos not included in any flayvr albums
– You can now easily mute videos, or access the "settings" to auto-mute all videos
Please keep the feedback coming: [email protected]
Permissions
THIS APPLICATION HAS ACCESS TO THE FOLLOWING:
NETWORK COMMUNICATION

FULL NETWORK ACCESS

Allows the app to create network sockets and use custom network protocols. The browser and other applications provide means to send data to the internet, so this permission is not required to send data to the internet.

PHONE CALLS

READ PHONE STATUS AND IDENTITY

Allows the app to access the phone features of the device. This permission allows the app to determine the phone number and device IDs, whether a call is active, and the remote number connected by a call.

STORAGE

MODIFY OR DELETE THE CONTENTS OF YOUR USB STORAGE

Allows the app to write to the USB storage.
YOUR ACCOUNTS

FIND ACCOUNTS ON THE DEVICE

Allows the app to get the list of accounts known by the device. This may include any accounts created by applications you have installed.

NETWORK COMMUNICATION

VIEW NETWORK CONNECTIONS

Allows the app to view information about network connections such as which networks exist and are connected.

VIEW WI-FI CONNECTIONS

Allows the app to view information about Wi-Fi networking, such as whether Wi-Fi is enabled and name of connected Wi-Fi devices.

RECEIVE DATA FROM INTERNET

Allows apps to accept cloud to device messages sent by the app's service. Using this service will incur data usage. Malicious apps could cause excess data usage.

SYSTEM TOOLS

TEST ACCESS TO PROTECTED STORAGE

Allows the app to test a permission for USB storage that will be available on future devices.

AFFECTS BATTERY

PREVENT DEVICE FROM SLEEPING

Allows the app to prevent the device from going to sleep.
VERSION:1.1.1
SIZE:5.7M
SPONSORED