MARVEL Contest of Champions
Description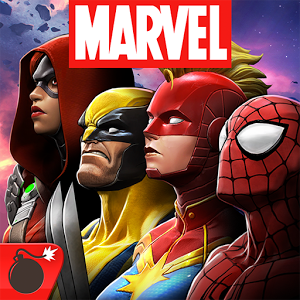 Prepare for epic versus-fighting action with your favorite Marvel Super Heroes & Super Villains in the ultimate cosmic showdown! Spider-Man, Iron Man, Wolverine & more await your summons to battle! Assemble a team & begin your quest to become the Ultimate Marvel Champion!
WELCOME TO THE CONTEST:
Iron Man vs. Captain America! Hulk vs. Wolverine! Drax vs. Deadpool! The greatest battles in Marvel history are in your hands! The greedy Elder of the Universe known as The Collector has summoned you to a brawl of epic proportions against a line-up of vile villains including Thanos, Kang the Conqueror, and many more! Experience the ultimate free-to-play fighting game on your mobile device…Contest of Champions! Who's on your team?
SUIT UP WITH FRIENDS:
• Ally with your friends and other Summoners to build the strongest Alliance
• Strategize with your alliance, help them keep their Champions in the fight
• Battle to the top in Alliance Events and take on Alliance Quest Series together in specially designed quest maps to earn exclusive Alliance rewards
BUILD YOUR ULTIMATE TEAM OF CHAMPIONS:
• Assemble a mighty team of heroes and villains (choosing Champions such as: Iron Man, Hulk, Wolverine, Storm, Star-Lord, Gamora, Spider-Man, Deadpool, Magneto and Winter Soldier)
• Embark on quests to defeat Kang and Thanos and face the challenge of a mysterious new super powerful cosmic competitor, ultimately to prevent the total destruction of The Marvel Universe
• Improve your team's offense and defense with multiple Mastery trees
COLLECT THE MIGHTIEST HEROES (AND VILLAINS!):
• Collect, level up, and manage your teams of heroes and villains wisely to receive synergy bonuses based upon team affiliation and relationships taken from the pages of Marvel Comics
• Pairing up Black Panther and Storm or Cyclops and Wolverine for bonuses, or making a team of Guardians of the Galaxy for a team affiliation bonus
• The more powerful the Champion, the better their stats, abilities and special moves will be
QUEST AND BATTLE:
• Journey through an exciting storyline in classic Marvel storytelling fashion
• Fight it out with a huge array of heroes and villains in iconic locations spanning the Marvel Universe such as: Avengers Tower, Oscorp, The Kyln, Wakanda, The Savage Land, Asgard, the S.H.I.E.L.D. Helicarrier, and more!
• Explore dynamic quest maps and engage in a healthy dose of action-packed fighting utilizing controls developed specifically for the mobile platform
Like us on Facebook: www.facebook.com/MarvelContestofChampions
Subscribe on YouTube: www.youtube.com/MarvelChampions
Follow us on Twitter: www.twitter.com/MarvelChampions
Follow us on Instagram www.instagram.com/MarvelChampions
www.playcontestofchampions.com
SPONSORED

********************************
By downloading this game, you agree to the Terms of Service, Privacy Policy and the License Agreement.
Screenshots
What's New
GENERAL:
• The point animation in Versus is skippable again.
• Mail messages now display the date they were sent.
• Usability improvements and bug fixes.
ALLIANCE WARS:
• A message is sent to the War Room when an Alliance War battlegroup is cleared.
• You can now tap directly on another node icon while the tile info popup is open.
• In Attack Phase, you can view the score breakdown for both the battlegroup and overall.
Permission
Version 7.0.3 can access:
find accounts on the device
find accounts on the device
read phone status and identity
modify or delete the contents of your USB storage
read the contents of your USB storage
modify or delete the contents of your USB storage
read the contents of your USB storage
read phone status and identity
receive data from Internet
download files without notification
prevent device from sleeping
full network access
control vibration
Google Play license check
change your audio settings
view network connections
use accounts on the device
Size: 41 MB
Version: 7.0.3
SPONSORED