Limopo: Movies & Trailers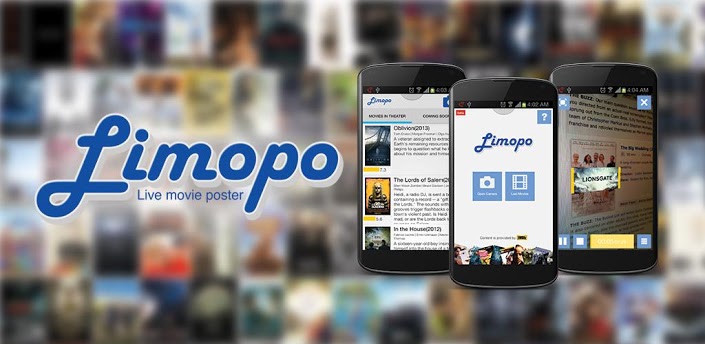 Description
Recognize movies using your camera, view movie details, watch trailer, and watch trailer directly on movie image (poster, DVD cover and etc.)
★★★★★★★★★★★★★★★★★★★★★★
Just keep your camera on the poster and that's all, the rest will be handled by Limopo. Limopo not only allows user to browse latest movies and also brings information about the movie and even plays the trailer right on the poster. Such an amazing experience, you won't believe to your eyes!
★★★★★★★★★★★★★★★★★★★★★★
View:
✓ Movie trailers (directly play on image movie poster or DVD cover with Augmented Reality feature)
✓ Directors, Writers, Stars
✓ Cast with images
✓ Short story
✓ Rating
✓ Release date
★★★★★★★★★★★★★★★★★★★★★★
Availability:
✓ Limopo is available worldwide but it detect currently only movies in theaters and coming soon movies in USA, Turkey, UK and Canada. (and IMDb)✓ If you have a trouble with timezone, please set your date and time update automatically.
★★★★★★★★★★★★★★★★★★★★★★
Permissions:
CAMERA: To Access the camera to make recognition.
INTERNET: To Access the Internet to get movie info online
ACCESS_NETWORK_STATE: To check which network access properties (e.g. active type: 3G/WiFi)
ACCESS_WIFI_STATE: To access WLAN MAC address
READ_PHONE_STATE: To access Hardware ID
★★★★★★★★★★★★★★★★★★★★★★
Each time you go to a theater for watching a movie, you make your decision only by the exposures of the posters, ads in news and magazines about that movie. If you are not among those who shot the movie, the only criteria becomes that exposure on your decision. And then perhaps just leave the theater and get disappointed because of the inadequate and misleading exposures of that movie. Similarly, while buying a DVD, the exposures influence your decision on what to watch this night.Well, you might think of websites that give information about films, such as IMDB, Flixster, Crackle, Netflix, Wikipedia and so on. However, most of them are quite extra informative and distracting. And exactly at this time, Limopo enters into the stage and amazes people who are fed up with those stuff by what it offers.
SPONSORED

★★★★★★★★★★★★★★★★★★★★★★★★★★★
★★Gladly developed by mrOnus Android Team★★
★★★★★★★★★★★★★★★★★★★★★★★★★★★
App Screenshots
Videos
What's New
What's in this version:
v1.2.0
✓ Permission remove
✓ Small bugs fixed
Permissions
THIS APPLICATION HAS ACCESS TO THE FOLLOWING:
NETWORK COMMUNICATION

FULL NETWORK ACCESS

Allows the app to create network sockets and use custom network protocols. The browser and other applications provide means to send data to the internet, so this permission is not required to send data to the internet.

PHONE CALLS

READ PHONE STATUS AND IDENTITY

Allows the app to access the phone features of the device. This permission allows the app to determine the phone number and device IDs, whether a call is active, and the remote number connected by a call.

CAMERA

TAKE PICTURES AND VIDEOS

Allows the app to take pictures and videos with the camera. This permission allows the app to use the camera at any time without your confirmation.
NETWORK COMMUNICATION

VIEW NETWORK CONNECTIONS

Allows the app to view information about network connections such as which networks exist and are connected.

VIEW WI-FI CONNECTIONS

Allows the app to view information about Wi-Fi networking, such as whether Wi-Fi is enabled and name of connected Wi-Fi devices.

GOOGLE PLAY LICENSE CHECK

Google Play license check
Version:1.2.0
Size:4M
SPONSORED