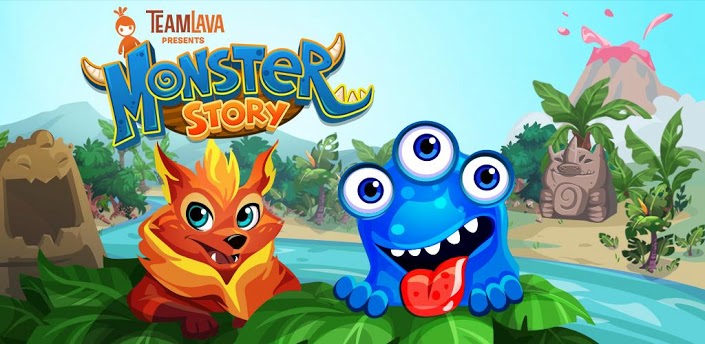 Description
Hatch, raise, collect, and breed strange and cute new monsters in your own tropical monster paradise!Become the greatest Monster Trainer – you could be the first to discover the ultra rare Diamond Pegasus!★ COLLECT powerful, magical, adorable monsters! Watch your monsters move with lively, unique personalities!
★ EVOLVE your monsters through 4 stages in the magical Evolution Totem to reach EPIC form!
★ BREED to raise new hybrid monsters! Can you DISCOVER the rare monsters for each combination?
★ GROW magical food for your monsters. Feed them and watch them grow and evolve!
★ DECORATE your island paradise with colorful habitats, powerful totems, tropical plants, and more!
★ QUEST alongside Captain Reynolds and Professor Hawa, learn their secrets, and earn REWARDS!
★ Sharp, stunning graphics, animations, and sounds bring your monsters to life.
★ Invite your Facebook and Storm8 friends to play with you. Gift GOLD and help each other raise monsters!
★ FREE weekly updates introduce new monsters, new colors, and new goals!
Discover monsters of all shapes and sizes! The mighty Tree Rex, bubbly Blue Blob, and many more await you in Monster Story!
SPONSORED

Monster Story is the BEST looking FREE monster game for your Android device!
PLEASE NOTE:
– This is an online game only.
TeamLava, a Storm8 studio, is the #1 Mobile Social Game Developer on Android, iPhone, iPod Touch, and iPad.
Use of this application is governed by the TeamLava Terms of Service. Collection and use of data are subject to TeamLava's Privacy Policy. Both policies are available at www.teamlava.com/terms and www.teamlava.com/privacy
Please note that MONSTER STORY™ is free to play, but you can purchase in-app items with real money. To delete this feature, on your device go to Settings Menu -> General -> Restrictions option. You can then simply turn off In-App Purchases under "Allowed Content". In addition, MONSTER STORY™ may link to social media services, such as Facebook, and Storm8 will have access to your information through such services.
App Screenshots
What's New
What's in this version:
– Performance Improvements
– Bug fixes
Permissions
THIS APPLICATION HAS ACCESS TO THE FOLLOWING:
NETWORK COMMUNICATION

FULL NETWORK ACCESS

Allows the app to create network sockets and use custom network protocols. The browser and other applications provide means to send data to the internet, so this permission is not required to send data to the internet.

PHONE CALLS

READ PHONE STATUS AND IDENTITY

Allows the app to access the phone features of the device. This permission allows the app to determine the phone number and device IDs, whether a call is active, and the remote number connected by a call.

STORAGE

MODIFY OR DELETE THE CONTENTS OF YOUR USB STORAGE

Allows the app to write to the USB storage.

SYSTEM TOOLS

INSTALL SHORTCUTS

Allows an app to add shortcuts without user intervention.

OTHER APPLICATION UI

DRAW OVER OTHER APPS

Allows the app to draw on top of other applications or parts of the user interface. They may interfere with your use of the interface in any application, or change what you think you are seeing in other applications.
NETWORK COMMUNICATION

RECEIVE DATA FROM INTERNET

Allows apps to accept cloud to device messages sent by the app's service. Using this service will incur data usage. Malicious apps could cause excess data usage.

SYSTEM TOOLS

TEST ACCESS TO PROTECTED STORAGE

Allows the app to test a permission for USB storage that will be available on future devices.

AFFECTS BATTERY

PREVENT DEVICE FROM SLEEPING

Allows the app to prevent the device from going to sleep.

CONTROL VIBRATION

Allows the app to control the vibrator.
Version:1.0.5.3
Size:28M
SPONSORED