Micromax Canvas 4 Specification & Rumors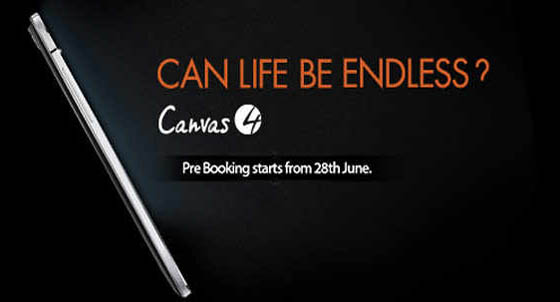 It's undoubtedly the most anticipated phone in the Indian market yet on this year and Micromax created more mist with this one than Apple could ever did that with their iPhones but I doubt if Micromax's new flagship can retain this hype after the series of specs leaks everywhere in the Internet. At first I would like to tell that Micromax was expecting to launch their Canvas 4 with a new name. It's Micromax A120 Canvas Pro HD but I suppose they came up with an idea and decided to launch a new flagship device with a new name as Micromax Canvas 4 A210. Okay, no problem, things can be changed, no offense at that. The rumored specs of Canvas HD Pro and Canvas 4 are quite similar until the specs leak hit it hard.
SPONSORED

Feature
Expected Specs
Leaked Specs
Processor
 2 GHz Octa-Core
 1.2 GHz Quad-Core
RAM
 2GB
 1GB
 GPU
  PowerVR Series 5XT
 Power VR SGX
 

In-Built

Storage
 16 GB
 8 GB
 Battery
 3000

mAh

 2500

mAh

 Primary Camera
 13 MP
 13 MP
 Secondary Camera
 3.2 MP
 5 MP
 Display
 5.5 Inch Full HD 1920x1080p
 5 Inch 1280 x 720 p
 Chipset
 MediaTek MT6599 8-core
 

Mediatek

6589
Processor, GPU & Chipset:
As we saw in the widely teased promo of canvas 4, there were 8 phones tilted in the picture to make 1.  That's enough to understand that the phone will come with an octa core heart instead of quad. But the spec leaks around the net kind of dropped that hype. It should come with the same processor as predecessor Canvas HD. If this was an octa core then it has to be Mediatek's MT6599 because it's their only 8 core supported chipset, but as long as it's quad core, Mediatek 6589 is enough. As long the GPU comes with the chipset, it will depend on what what you have under the hood.
RAM & Storage:
A 2GB RAM upgrade was quite essential but Micromax skipped that if the specs leak is true. Quite disappointing. 1GB devices quite run out out of ram this days on playing the latest heaviest games. So 1 GB RAM is just not an option. And as for the storage the canvas series is quite well known for having way too less device memory. 8 GB might ne okay but really is not enough. 16 GB should have a good bet.
Display & Battery:
It was most well expected that Canvas 4 will come with a 5.5′ full HD 1920x1080p display, but the leaks also denied this spec. It's really unexpected that a flagship smartphone will have a 720p display same as its predecessor and Micromax is going to disappoint on this term too. And the 2500mAh battery is a disaster.
 Primary & Secondary Camera:
It's the only feature that had been confirmed. The primary camera will be a 13MP shooter though the secondary one is still unknown and expected to be a 5 MP. But still it has to be some good lens if you want to have industry quality photo shot of a 13 MP one. Let's wait.
Verdict:
If the specification will be as same as the leaked one then I will never recommend to buy this phone just for a 13MP camera, but if it comes with the anticipated specs tag then just brush your teeth, take a deep breath and buy. Nothing will be best buy if this become true.
And for Micromax, you guys spent a lot to create this hype, is it just for the 13 MP camera and the specs are same as your Canvas HD? Don't just kill it for a small mistake. People will not trust you again for this pre-booking stuff. And believe me more than 60% of your pre orders gonna cancel if you stick with same previous specs. Act smart, have the money.
SPONSORED