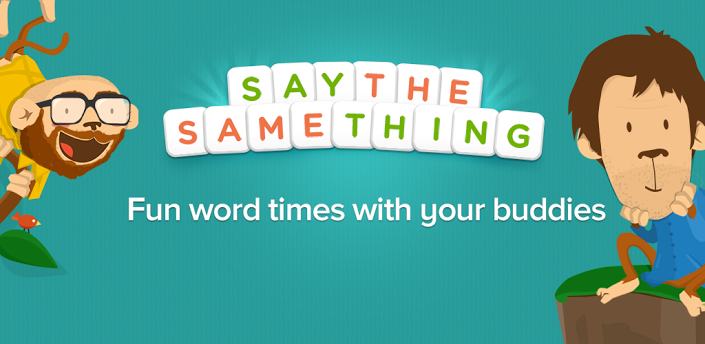 Description
From the band OK Go, a totally new kind of word game. It's creative, with no preset answers — a funny, unpredictable, mind-melding, turn-by-turn game where you have to think like your friends!Say the Same Thing is the word game where you and a friend win together! You each start by entering a random word and then you each guess a word that connects those two, something they both have in common or a bridge between them (see some examples in the screenshots). Repeat with each new pair of words until you Say the Same Thing!
FEATURES:
**Play with Friends on Android, Kindle, iPhone, iPad, or iPod Touch
**Win Together
If you both say the same thing in the same round, you win!
**Funny Stamps and Emoticons
Let Your Partner Know When Their Guess is Funny, Witty, or Ridiculous!
**Chat with Friends
Discuss Your Brilliant Game As It's Going On and After!
**Play OK Go
You can even play a member of the band OK Go!
A TOTALLY UNIQUE WORD GAME EXPERIENCE:
**Think Like Your Friends
Playing Say the Same Thing is like getting inside the head of your friend. You have to be smart to win.
**Totally Creative
You create the game together as you play, there are no preset answers.
**Different Games with Different Friends
When you play different friends, you'll have very different types of games — different jokes, different answers, different concepts.
**Improvisational
Your games will veer off in surprising directions and that reflect what you are thinking and feeling that day.
**Spend Time with Friends
Playing is almost like hanging out together and spending time with a friend or family member. Seriously. You are being creative, thinking about each other, and exploring your shared understanding of the world. But it's also simple and fun. There's no other game like it.
Share the Say the Same Thing Video!
http://www.youtube.com/watch?v=2sP1DqyagXE
Become a Fan! Get Exclusive Rewards and Stay Up-To-Date on our Latest News!
Like Us on Facebook: www.facebook.com/pages/Say-the-Same-Thing/249664865170976
SPONSORED

Need help? Have question or comment? Contact us at [email protected]
App Screenshots
Videos
What's New
What's in this version:
• Much faster loading of all screens!
• Lots of bugs fixed for many different devices
And more bug fixes coming soon… look for updates in the next day or so.
Permissions
THIS APPLICATION HAS ACCESS TO THE FOLLOWING:
NETWORK COMMUNICATION

FULL NETWORK ACCESS

Allows the app to create network sockets and use custom network protocols. The browser and other applications provide means to send data to the internet, so this permission is not required to send data to the internet.

PHONE CALLS

READ PHONE STATUS AND IDENTITY

Allows the app to access the phone features of the device. This permission allows the app to determine the phone number and device IDs, whether a call is active, and the remote number connected by a call.

STORAGE

MODIFY OR DELETE THE CONTENTS OF YOUR USB STORAGE

Allows the app to write to the USB storage.

YOUR APPLICATIONS INFORMATION

RETRIEVE RUNNING APPS

Allows the app to retrieve information about currently and recently running tasks. This may allow the app to discover information about which applications are used on the device.
YOUR ACCOUNTS

FIND ACCOUNTS ON THE DEVICE

Allows the app to get the list of accounts known by the device. This may include any accounts created by applications you have installed.

NETWORK COMMUNICATION

VIEW NETWORK CONNECTIONS

Allows the app to view information about network connections such as which networks exist and are connected.

VIEW WI-FI CONNECTIONS

Allows the app to view information about Wi-Fi networking, such as whether Wi-Fi is enabled and name of connected Wi-Fi devices.

RECEIVE DATA FROM INTERNET

Allows apps to accept cloud to device messages sent by the app's service. Using this service will incur data usage. Malicious apps could cause excess data usage.

SYSTEM TOOLS

TEST ACCESS TO PROTECTED STORAGE

Allows the app to test a permission for USB storage that will be available on future devices.

AFFECTS BATTERY

PREVENT DEVICE FROM SLEEPING

Allows the app to prevent the device from going to sleep.

CONTROL VIBRATION

Allows the app to control the vibrator.
VERSION:1.0.6
SIZE:20M
SPONSORED