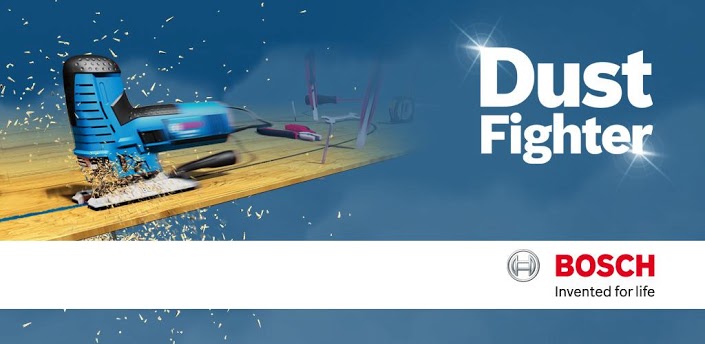 SPONSORED

Description
Bosch presents Dust Fighter, the endless runner for real professionals!Play the toughest game challenge in the app store. Show that you're a professional with a jigsaw and don't give dust a chance. Evade hazardous obstacles, like falling knives, nails, screw wrenches or measuring tapes, and saw your way to a high score.
Work accurately, extend the lifetime of your saw and look after your health by collecting the Click & Clean Bonus!
Complete lots of missions and collect coins. Enhance your skills as a professional by using these coins to buy upgrades and special items in our shop. Use the angle grinder to clear obstacles out of your way with ease. The loading crane catapults you right to where the action is!
HIGHLIGHTS
– No in-app purchases required, you can win all upgrades by skill alone
– Get upgrades such as an angle grinder, a loading crane or an extended Click & Clean Bonus in our shop
– Variety through achievement
CONTACT
[email protected]
App Screenshots
Permissions
THIS APPLICATION HAS ACCESS TO THE FOLLOWING:
NETWORK COMMUNICATION

FULL NETWORK ACCESS

Allows the app to create network sockets and use custom network protocols. The browser and other applications provide means to send data to the internet, so this permission is not required to send data to the internet.

STORAGE

MODIFY OR DELETE THE CONTENTS OF YOUR USB STORAGE

Allows the app to write to the USB storage.

YOUR APPLICATIONS INFORMATION

RETRIEVE RUNNING APPS

Allows the app to retrieve information about currently and recently running tasks. This may allow the app to discover information about which applications are used on the device.

CAMERA

TAKE PICTURES AND VIDEOS

Allows the app to take pictures and videos with the camera. This permission allows the app to use the camera at any time without your confirmation.
NETWORK COMMUNICATION

VIEW NETWORK CONNECTIONS

Allows the app to view information about network connections such as which networks exist and are connected.

SYSTEM TOOLS

TEST ACCESS TO PROTECTED STORAGE

Allows the app to test a permission for USB storage that will be available on future devices.

AFFECTS BATTERY

CONTROL VIBRATION

Allows the app to control the vibrator.

PREVENT DEVICE FROM SLEEPING

Allows the app to prevent the device from going to sleep.
VERSION:1.0
SIZE:20M
SPONSORED