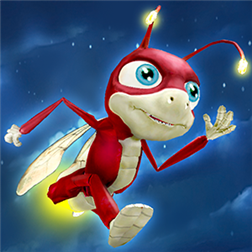 Description
Help Switch the courageous firefly run, fly, shoot and rescue his captured firefly friends.
Firefly Runner is an action packed, free-running adventure set on the stunningly beautiful yet treacherous Firefly Island.
Join Switch as he takes flight in search of treasured light orbs and magical keys. After lift-off avoid obstacles, collect cherries and perform acrobatic loop-de-loops to gain extra points. You will be flying towards higher and higher scores in no time!
Challenge your reflexes by running, flying and firing your deadly slingshot to take out Switch's insect foes like grumpy hornets, burping slugs and scuttling spiders. Always make sure to keep a watchful eye for those mischievous praying mantises or else their deadly traps are likely to catch you by surprise.
—Features—
• Run, fly and shoot through a stunningly beautiful rendered forest world.
• Fun and charming 3D insect characters, including cute fireflies, grumpy hornets, burping slugs, scuttling spiders and mischievous praying mantises.
• One touch gameplay that can be picked up instantly and is fun to master.
• Three diverse environments to explore; The Rolling Countryside, The Forbidden Forest and The Crystal Caves.
• Unlock achievements and beat your best scores.
• Can you collect all of the flight badges and unlock the many achievements to become the ultimate firefly?
—GamesAid and SpecialEffect—
Red Kite Games are proudly supporting GamesAid and SpecialEffect with this game and make regular donations to both video games charities. For info on how playing and sharing Firefly Runner is making a difference, please visit our website:
http://redkitegames.co.uk/game/firefly-runner/
SPONSORED

—More Information—
Follow us on Facebook: https://www.facebook.com/RedKiteGames
Follow us on Twitter: @RedKiteGames
For the optimal experience we recommend closing other applications and/or restarting your device before playing this app for the first time.
Screenshots
Info
Works with
Windows Phone 8.1
Windows Phone 8
App

requires
phone

identity

music

library

media

playback

data

services

push

notification service

movement

and directional sensor

web

browser component
HD720P (720×1280)
WVGA (480×800)
WXGA (768×1280)
Supported languages (6)
DeutschEnglishespañolfrançaisitalianoPortuguês
[sociallocker]
[/sociallocker]
SPONSORED