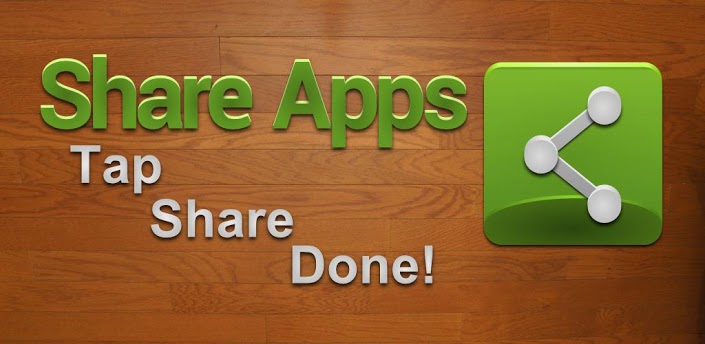 Description
The easiest way to share apps you love with your friends!Get the ad free version of this app 
http://www.goo.gl/1q4GV
 and help us keep making great apps like this.Have an app you love that you want to share with a friend? Share Apps lets you share apps that you have on your phone with a friend by sending them an email or text message about the app with a link included. Downloading is made easy by sending them directly to the app's page on the Android Market. It's the best way to tell a friend quickly about your apps! They'll be glad you did!
What people are saying about Share Apps
"Idiot proof!"
"Simple. Clean. Precise. This is an excellent app."
"Great app! Easy & straight forward."
Does not send APK files. Why is sending the link better?
Faster
Recipient can view item's description on Play Store
Less network and data usage required
Need help or have feedback? Email us at [email protected] We'd love to hear from you.
SPONSORED

*HOW TO*
SHARE AN APP
Tap the app
Select how you would like to share it
SHARE MULTIPLE APPS
Tap and hold an app to start selecting
Tap apps to select
Tap the share icon at the top of the screen
SEARCH
Tap search field
Type to filter by app name
=PERMISSIONS=
INTERNET ACCESS – for advertisements
NETWORK STATE – to improve ads
By installing and using this application you agree to the terms at http://www.goo.gl/1aXHo
kw: send applications appkik app share Better App Manager, sharemyapps share my apps share applications email applications appshare
App Screenshots
What's New
What's in this version:
Major UI improvements!
Improved search interface
Improved multiple selection and sharing
Open an app directly from Share Apps
Go directly to an app's Market page
Permissions
THIS APPLICATION HAS ACCESS TO THE FOLLOWING:
NETWORK COMMUNICATION

FULL NETWORK ACCESS

Allows the app to create network sockets and use custom network protocols. The browser and other applications provide means to send data to the internet, so this permission is not required to send data to the internet.
NETWORK COMMUNICATION

VIEW NETWORK CONNECTIONS

Allows the app to view information about network connections such as which networks exist and are connected.
VERSION:2.1
SIZE:423k
SPONSORED