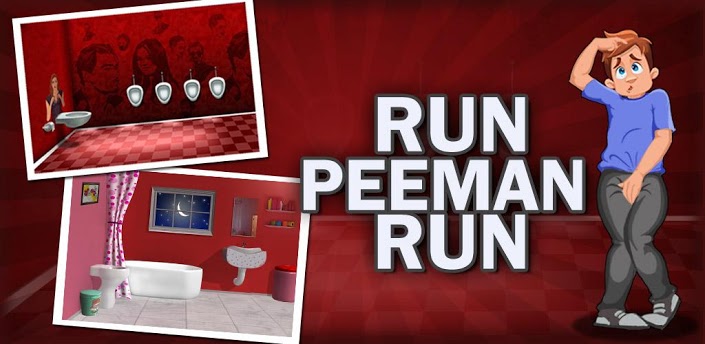 Description
What happens when you are with your girlfriend on a date and you have to relieve yourself? Sounds Easy…Test your concentration now!!!!Most guys hold themselves up to a point when they can't hold back anymore and make a run to the nearest loo, resulting in some… umm interesting and rather disastrous incidents involving just your pants if you are lucky. If unlucky you end up at the emergency room of the nearest hospital with a rather embarrassing injury :).
SPONSORED

Run Peeman Run explores the day to day situation which guys face
when they have too many cold drinks on their date and forget how
difficult is to leave their girlfriend and relieve themselves.
There are 4 themes in the game which we all have faced when we
are with our girlfriends:
• Movie Theme: You are at the movies holding our girlfriend's
hand and suddenly you want to Pee. What do you do now?
• Valentine Theme: You have been waiting for hours on your
Valentine date to meet your girlfriend and had too many glasses of water in anxiety. The best part is that when
you make a quick run to the loo just when you see your girlfriend come into the restaurant
• Swimming Pool: What happens when you have peed a little in the simming pool and now have to rush to the loo to relieve yourself
• Beer Pong: Peeman lost the Beer Pong Game and had to drink lots and lots of beer. He has drunk so much that he had to leave the game and rush to the loo where a couple is busy making out.
How to play:
All you have to do is to touch the Press button and keep pressing
until the seat falls, upon which you release your touch to escape the
lid hurting you. But, beware, if you leave the touch early you will
pee all over himself and you will lose the game.
Features:
• Simple and easy to understand interface to get you in the game
immediately
• Leaderboard to keep track of the top 3 scores
• Tablet ready HD graphics, animations and great voice-overs
• Test your concentration and focus
• Unlimited gameplay
• Easy to understand gameplay, with no language barriers
Run Peeman Run is a very funny but silly game that will not only test
your patience but improve your concentration. It may sound easy,
but sometimes it's really hard to judge when the toilet seat will fall
on Peeman.
Visit us at http://www.casualbee.com/portfolio-item/peeman/
App Screenshots
Videos
What's New
What's in this version:
Bug fixes
Smoother gameplay
Added 2 themes:
BeerPong Theme
Swimming Pool Theme
Bugs Fixed on Unlock themes
Peeman Shadow Problem Fix
Permissions
THIS APPLICATION HAS ACCESS TO THE FOLLOWING:
YOUR LOCATION

APPROXIMATE LOCATION (NETWORK-BASED)

Allows the app to get your approximate location. This location is derived by location services using network location sources such as cell towers and Wi-Fi. These location services must be turned on and available to your device for the app to use them. Apps may use this to determine approximately where you are.

NETWORK COMMUNICATION

FULL NETWORK ACCESS

Allows the app to create network sockets and use custom network protocols. The browser and other applications provide means to send data to the internet, so this permission is not required to send data to the internet.

PHONE CALLS

READ PHONE STATUS AND IDENTITY

Allows the app to access the phone features of the device. This permission allows the app to determine the phone number and device IDs, whether a call is active, and the remote number connected by a call.

STORAGE

MODIFY OR DELETE THE CONTENTS OF YOUR USB STORAGE

Allows the app to write to the USB storage.
NETWORK COMMUNICATION

VIEW NETWORK CONNECTIONS

Allows the app to view information about network connections such as which networks exist and are connected.

VIEW WI-FI CONNECTIONS

Allows the app to view information about Wi-Fi networking, such as whether Wi-Fi is enabled and name of connected Wi-Fi devices.

SYSTEM TOOLS

TEST ACCESS TO PROTECTED STORAGE

Allows the app to test a permission for USB storage that will be available on future devices.

AFFECTS BATTERY

PREVENT DEVICE FROM SLEEPING

Allows the app to prevent the device from going to sleep.

CONTROL VIBRATION

Allows the app to control the vibrator.
VERSION:2.0
SIZE:19M
SPONSORED