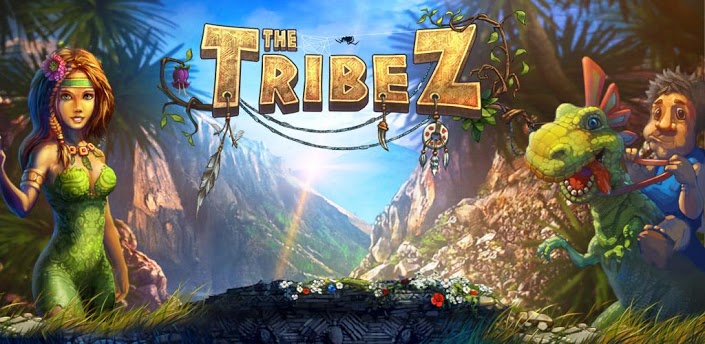 Description
"…the Tribez is one of the most enjoyable and in-depth city-builders
we've seen"
– Games.comTribez is not just a game! Tribez is an adventure, where you travel to a
distant past full of secrets, mysteries and many hours of addictive
discovery in an unknown but beautiful world!
Privacy Policy – 
http://www.game-insight.com/legal/privacy/
Game Trailer: 
http://youtu.be/ZoXWVgCHrSs
You have been invited to visit a mysterious, primitive world inhabited by a
peace-loving people who have been concealed behind a miles-deep portal since
time immemorial. Build your own stone-age village and explore territories
hidden behind mountains and seas. Your tribe believes you were sent by
the gods. Lead them to great prosperity!
SPONSORED

Help the leaders of neighbouring tribes, develop your country's economy,
discover new lands, and populate them with your tribesmen! Tribez is a world
that feels real and alive!
– Gorgeous graphics and lively animations make the prehistoric world come to
life on your tablet and smartphone.
– Truly endless possibilities to develop your own stone-age empire
across 6 large islands
– More than 100 functional and decorative buildings, 14 kinds of resources
– More than 700 captivating quests: search for treasure and artifacts,
discover distant islands, send expeditions to mysterious caves
– And, you can also train your own dino!"
Privacy Policy – http://www.game-insight.com/legal/privacy/
App Screenshots
Videos
What's New
What's in this version:
– Don't miss the upcoming event – arrival of the Big Fair! It is open for players that have reached level 4. Stay tuned!
– Aero has prepared new quests dedicated to Mothers' Day. The Ashy Islands need your help again!
– Extremely useful sets for you with a significant discount – buy everything you need with a single tap!
– Numerous technical improvements.
Permissions
THIS APPLICATION HAS ACCESS TO THE FOLLOWING:
NETWORK COMMUNICATION

FULL NETWORK ACCESS

Allows the app to create network sockets and use custom network protocols. The browser and other applications provide means to send data to the internet, so this permission is not required to send data to the internet.

PHONE CALLS

READ PHONE STATUS AND IDENTITY

Allows the app to access the phone features of the device. This permission allows the app to determine the phone number and device IDs, whether a call is active, and the remote number connected by a call.

STORAGE

MODIFY OR DELETE THE CONTENTS OF YOUR USB STORAGE

Allows the app to write to the USB storage.

YOUR APPLICATIONS INFORMATION

RETRIEVE RUNNING APPS

Allows the app to retrieve information about currently and recently running tasks. This may allow the app to discover information about which applications are used on the device.
YOUR ACCOUNTS

FIND ACCOUNTS ON THE DEVICE

Allows the app to get the list of accounts known by the device. This may include any accounts created by applications you have installed.

NETWORK COMMUNICATION

VIEW WI-FI CONNECTIONS

Allows the app to view information about Wi-Fi networking, such as whether Wi-Fi is enabled and name of connected Wi-Fi devices.

RECEIVE DATA FROM INTERNET

Allows apps to accept cloud to device messages sent by the app's service. Using this service will incur data usage. Malicious apps could cause excess data usage.

GOOGLE PLAY LICENSE CHECK

Google Play license check

VIEW NETWORK CONNECTIONS

Allows the app to view information about network connections such as which networks exist and are connected.

SYSTEM TOOLS

TEST ACCESS TO PROTECTED STORAGE

Allows the app to test a permission for USB storage that will be available on future devices.

AFFECTS BATTERY

CONTROL VIBRATION

Allows the app to control the vibrator.

PREVENT DEVICE FROM SLEEPING

Allows the app to prevent the device from going to sleep.

YOUR APPLICATIONS INFORMATION

RUN AT STARTUP

Allows the app to have itself started as soon as the system has finished booting. This can make it take longer to start the device and allow the app to slow down the overall device by always running.
VERSION:1.31
SIZE:26M
SPONSORED