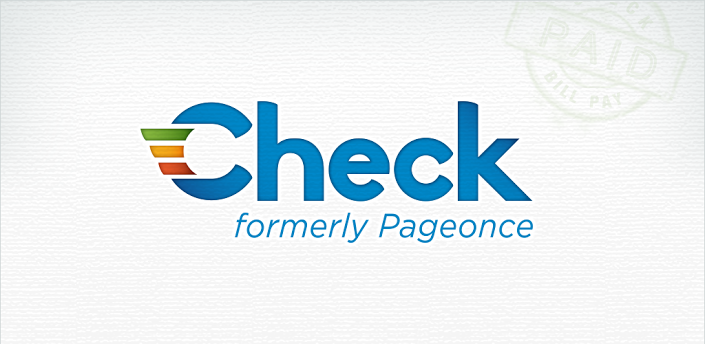 Description
Check (formerly Pageonce) is an award-winning app that stays on top of your bills & money for you, so you never miss a bill or get hit with overdraft & late fees again. Just set it up once and the app goes to work – proactively staying on top of your bills and monitoring your bank accounts and credit cards, all in one place. When bills are due or funds are low, the app will let you know so you're never caught off guard.
Loved by the Press & Featured in Google Play:
★ "Cadillac of money management apps" – CNN Money (May 2012)
★ Google Editor's Choice (2011-2012)
★ Google Staff Picks (2011-2013)
★ PC World "30 Sites You Should Be Using Right Now" (Dec 2011)
★ Top 25 Android Apps for Moms (Dec 2011)How our app keeps your bills & money in check:
• Get reminders when bills are due
• Pay on the spot and schedule bill payments for free
• Conveniently pay bills with a bank account or credit card*
• See all your bills & accounts in one centralized place
• Receive alerts when funds are low or credit limits are near
The Check app pays your bills on time so you never stress about missing a bill again – we'll remember so you don't have to. Get reminders when bills are due, then pay them on the spot or schedule the payment for later. No stamps, no phone calls, no hassle.
The Check app keeps it all together in once central place. With multiple credit cards, bank accounts, and numerous bills to keep track of, it's too easy to overdraft, miss a payment or exceed credit limits. With our app, you never have to worry because you'll always know exactly where you stand.
Our Triple Layer Security ensures your information is safe & secure.
1. Bank-Level Security: Our app is armed with the same 128-bit encryption and physical security standards as your bank. The app is also verified and monitored by third party security experts such as TRUSTe, McAfee, Hacker Safe and Verisign.
2. In-App Security & Remote Data Destruct: Safeguard app access with a 4-digit PIN, so only you can view your account. If your smartphone is ever lost or stolen, delete all your account information remotely.
3. Real-Time Alerts: If the app notices any large purchases or unusual charges in your account, you'll be notified immediately via real-time push messages and emails.
It's easy to get started:
1. Download the Check app
2. Securely connect all your accounts to get reminders & alerts
3. Relax, while the app stays on top of it all, for you!
* Paying bills using your bank account is free; paying with your credit or debit card includes a transaction fee.
The Check app supports thousands of banks including Bank of America, Capital One, Chase Bank, Wells Fargo Bank, Citibank, US Bank, PNC, and more! With any of our thousands of supported providers, you can track your cash balance, mortgage, loans, bills & keep track of interest rates & finance charges.
SPONSORED

We also support credit unions across the country, like the USAA, Navy Federal Credit Union, America First Credit Union, Schools First Federal Credit Union, Digital Federal Credit Union, Golden1 Credit Union, Patelco Credit Union and many, many more.
All the most popular credit cards are available in the app: Discover Cards, American Express Credit Cards, Bank of America Credit Cards, Capital One Credit Cards, Citibank Credit Cards, and Chase Credit Cards are just a handful of the cards you can access with the Check app.
Popular bills conveniently tracked and paid directly via the app by more than 8 million Check users include Verizon Wireless, Sprint, Comcast, AT&T, T-Mobile, Orchard Bank, DirecTV, all major credit cards, mortgages, local and regional utilities, and more.
Our users love us!
App Screenshots
Videos
What's New
What's in this version:
• Plan ahead and schedule bill payments in advance using your bank account or credit/debit card
• Bug fixes
New in Previous Versions:
• Pageonce is now Check – we have a fresh new app icon & logo!
• Free bill pay when you pay with a bank account
• Avoid late fees with Express payments – pays your bill in a day (service fee applies)
• Pay bills in a snap with just your account # (found on bill statement)
• Pay small billers for free – rent, gym tutor, and more!
Permissions
THIS APPLICATION HAS ACCESS TO THE FOLLOWING:
NETWORK COMMUNICATION

FULL NETWORK ACCESS

Allows the app to create network sockets and use custom network protocols. The browser and other applications provide means to send data to the internet, so this permission is not required to send data to the internet.

PHONE CALLS

READ PHONE STATUS AND IDENTITY

Allows the app to access the phone features of the device. This permission allows the app to determine the phone number and device IDs, whether a call is active, and the remote number connected by a call.
YOUR ACCOUNTS

FIND ACCOUNTS ON THE DEVICE

Allows the app to get the list of accounts known by the device. This may include any accounts created by applications you have installed.

NETWORK COMMUNICATION

RECEIVE DATA FROM INTERNET

Allows apps to accept cloud to device messages sent by the app's service. Using this service will incur data usage. Malicious apps could cause excess data usage.

VIEW NETWORK CONNECTIONS

Allows the app to view information about network connections such as which networks exist and are connected.

AFFECTS BATTERY

CONTROL VIBRATION

Allows the app to control the vibrator.

YOUR APPLICATIONS INFORMATION

RUN AT STARTUP

Allows the app to have itself started as soon as the system has finished booting. This can make it take longer to start the device and allow the app to slow down the overall device by always running.
VERSION:6.12
SIZE:5.6M
SPONSORED