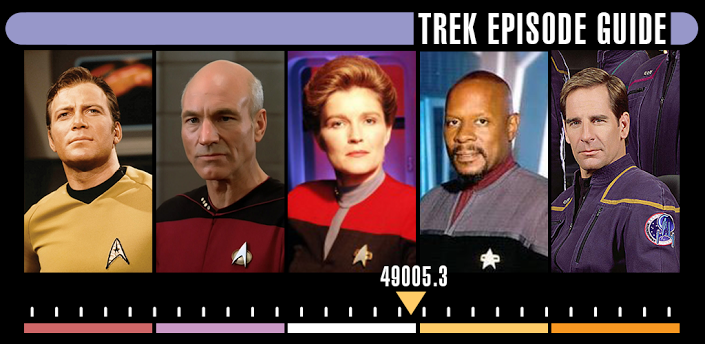 Description
The Trek Episode Guide immerses Star Trek™ fans in an authentic LCARS style interface introduced in the Star Trek: The Next Generation™ television series, and provides a compendium of all Star Trek episodes and movies, with detailed plot descriptions and HD images (where available).(The other app "Trek Episode Guide- Google I/O" is identical to this app, "Trek Episode Guide", but also provides attendees of Google I/O 2013 with the ability to see "new" episodes created on the fly at Google I/O using AppGlu's content management and mobile app platform. Visit the AppGlu booth in the Google I/O Developer Sandbox area to "Trek-ify" yourself and get added to the "Trek Episode Guide- Google I/O" version!)
The Trek Episode Guide includes information for these series:
Star Trek: The Original Series
Star Trek: The Animated Series
Star Trek: The Next Generation
Star Trek: Deep Space Nine
Star Trek: Voyager
Star Trek: Enterprise
and also for these movies:
Star Trek: The Motion Picture
Star Trek II: The Wrath of Khan
Star Trek III: The Search for Spock
Star Trek IV: The Voyage Home
Star Trek V: The Final Frontier
Star Trek VI: The Undiscovered Country
Star Trek Generations
Star Trek: First Contact
Star Trek: Insurrection
Star Trek Nemesis
Star Trek
Star Trek Into Darkness
Content for the app comes from Memory Alpha, and is used with permission. Seehttp://memory-alpha.org. All content is subject to licenses on their use, and is described on the Memory Alpha site.
SPONSORED

Content is managed and synchronized using the AppGlu mobile app platform.http://appglu.com
App Screenshots
Permissions
THIS APPLICATION HAS ACCESS TO THE FOLLOWING:
NETWORK COMMUNICATION

FULL NETWORK ACCESS

Allows the app to create network sockets and use custom network protocols. The browser and other applications provide means to send data to the internet, so this permission is not required to send data to the internet.

STORAGE

MODIFY OR DELETE THE CONTENTS OF YOUR USB STORAGE

Allows the app to write to the USB storage.
YOUR ACCOUNTS

FIND ACCOUNTS ON THE DEVICE

Allows the app to get the list of accounts known by the device. This may include any accounts created by applications you have installed.

NETWORK COMMUNICATION

VIEW NETWORK CONNECTIONS

Allows the app to view information about network connections such as which networks exist and are connected.

RECEIVE DATA FROM INTERNET

Allows apps to accept cloud to device messages sent by the app's service. Using this service will incur data usage. Malicious apps could cause excess data usage.

SYSTEM TOOLS

TEST ACCESS TO PROTECTED STORAGE

Allows the app to test a permission for USB storage that will be available on future devices.

AFFECTS BATTERY

PREVENT DEVICE FROM SLEEPING

Allows the app to prevent the device from going to sleep.
VERSION:1.0.0.150
SIZE:12M
SPONSORED