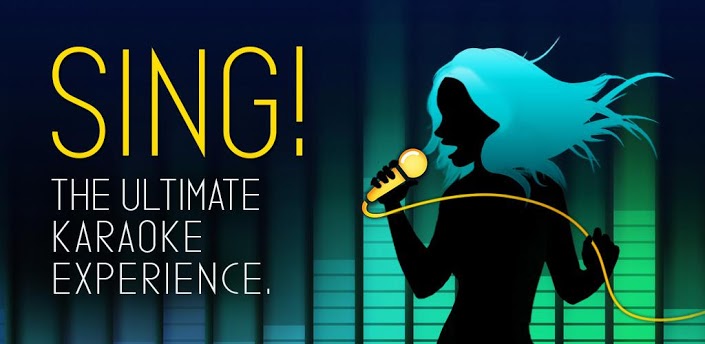 Description
Sing your favorite songs from a huge catalog of top hits, or perfect a song and then share it with the world.♪ ♫♩♪ Now supporting duet mode!!! ♪ ♫♩♪
The audio technology behind Sing! works best on newer devices, in particular Galaxy S3, Galaxy Note II, Galaxy Nexus, Nexus 4, Nexus 7, Nexus 10, and other high-powered devices.
SING THE HOTTEST SONGS:
Choose from a huge catalog of songs, with the hottest hits by your favorite artists. Sing songs from an array of genres, from Pop to Rock, Hip-Hop to Musicals, Country to Classics. New and free songs are added all the time!
Earn free currency to sing premium songs, or buy a subscription for unlimited access!
Songbook includes:
♪ Stay – Rihanna ft. Mikky Ekko
♪ Gangnam Style, Gentleman – Psy
♪ Give Your Heart A Break – Demi Lovato
♪ Locked Out Of Heaven, When I Was Your Man, Grenade – Bruno Mars
♪ One Way Or Another, What Makes You Beautiful, One Thing – One Direction
♪ Say Somethin – Austin Mahone
♪ Call Me Maybe – Carly Rae Jepsen
♪ Love You Like A Love Song – Selena Gomez & The Scene
♪ The Edge of Glory, Bad Romance, Poker Face – Lady Gaga
♪ Before He Cheats – Carrie Underwood
♪ I Won't Give Up, I'm Yours – Jason Mraz
♪ Home – Phillip Phillips
♪ Pound The Alarm – Nicki Minaj
♪ Glad You Came – The Wanted
♪ Stronger, Dark Side – Kelly Clarkson
♪ Boyfriend, One Less Lonely Girl, Baby – Justin Bieber
♪ Umbrella, Disturbia, Cheers – Rihanna
♪ Need You Now, Wanted You More – Lady Antebellum
♪ Apologize – OneRepublic
♪ Fireflies – Owl City
And many more! New songs added all the time!
Want a song that's not yet available? Suggest songs here:http://bit.ly/SuggestSongsForSmule
SOUND LIKE A STAR:
Sound great every time with Sing!'s voice enhancement technology. Like a little competition? Aim high to get on the Top Performances list with singers from all over the globe.
SHARE WITH THE WORLD:
Save your performances to your profile and share with friends and family via Facebook, email, SMS, Google Plus, or Twitter. Share your creations with the Sing! community and give and receive Loves!
Features:
– Sing songs with scrolling lyrics, pitch lines, and backing vocals.
– Enhance your voice with Sing! special voice filter.
– Share your performances with the community and receive Loves.
– Easy sharing to the outside community via Facebook, Google Plus, Twitter, email and SMS.
– And much more!
SPONSORED

Questions? Write [email protected], find us on YouTube, Google+, Facebook, or Twitter!
www.smule.com
App Screenshots
Videos
What's New
What's in this version:
Sing! Karaoke has major improvements, including:
– Better sound quality!
– Improved songbook interface with over 500 songs!
– See and listen to more top performances!
Permissions
THIS APPLICATION HAS ACCESS TO THE FOLLOWING:
YOUR LOCATION

APPROXIMATE LOCATION (NETWORK-BASED)

Allows the app to get your approximate location. This location is derived by location services using network location sources such as cell towers and Wi-Fi. These location services must be turned on and available to your device for the app to use them. Apps may use this to determine approximately where you are.

NETWORK COMMUNICATION

FULL NETWORK ACCESS

Allows the app to create network sockets and use custom network protocols. The browser and other applications provide means to send data to the internet, so this permission is not required to send data to the internet.

PHONE CALLS

READ PHONE STATUS AND IDENTITY

Allows the app to access the phone features of the device. This permission allows the app to determine the phone number and device IDs, whether a call is active, and the remote number connected by a call.

STORAGE

MODIFY OR DELETE THE CONTENTS OF YOUR USB STORAGE

Allows the app to write to the USB storage.

YOUR APPLICATIONS INFORMATION

RETRIEVE RUNNING APPS

Allows the app to retrieve information about currently and recently running tasks. This may allow the app to discover information about which applications are used on the device.

MICROPHONE

RECORD AUDIO

record audio
DEVELOPMENT TOOLS

READ SENSITIVE LOG DATA

Allows the app to read from the system's various log files. This allows it to discover general information about what you are doing with the device, potentially including personal or private information.

NETWORK COMMUNICATION

VIEW NETWORK CONNECTIONS

Allows the app to view information about network connections such as which networks exist and are connected.

VIEW WI-FI CONNECTIONS

Allows the app to view information about Wi-Fi networking, such as whether Wi-Fi is enabled and name of connected Wi-Fi devices.

RECEIVE DATA FROM INTERNET

Allows apps to accept cloud to device messages sent by the app's service. Using this service will incur data usage. Malicious apps could cause excess data usage.

SYSTEM TOOLS

TEST ACCESS TO PROTECTED STORAGE

Allows the app to test a permission for USB storage that will be available on future devices.

AFFECTS BATTERY

PREVENT DEVICE FROM SLEEPING

Allows the app to prevent the device from going to sleep.

AUDIO SETTINGS

CHANGE YOUR AUDIO SETTINGS

Allows the app to modify global audio settings such as volume and which speaker is used for output.
VERSION:1.0.9
SIZE:12M
SPONSORED