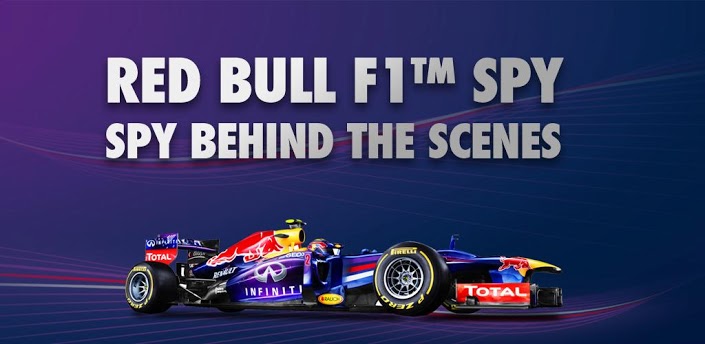 Description
Formula One is all about knowledge. From lap times to driver stats to which celebrity's wearing what… it's what you know. And it's all here. If you want to know what's going on in the Paddock, in the pitlane and on the track, then you need this app.Brought to you by current F1 world champions' man on the inside (knowingly dubbed the 'Red Bull F1™ Spy'), this one gives you everything, from results to parties, from behind-the-scenes pictures to gossip.
SPONSORED

And, if he's missed something out, you get the chance to quiz him. Ask him anything F1-related or challenge him. It's essential for any F1 fan who wants a little more information than the average spectator – or who secretly loves a bit of grand prix gossip.
The Red Bull F1™ Spy will bring you closer to the real action in Formula One. You'll get insider access and witty anecdotes*, live lap-by-lap track positions and race stats as well as a load more F1 facts and figures. And a bit of fun.
*depending on your definition of 'witty'.
Key features:
★ Real-time commentary from our man on the inside
★ Exclusive behind-the-scenes pictures
★ Race-specific facts and figures
★ Access to the Red Bull Racing grand prix diary
★ Full race results, driver and constructor championship standings
Thanks for downloading the app. Feel free to write a comment in the store or drop us a note on [email protected]. Your feedback is important to us!
App Screenshots
What's New
What's in this version:
We've used the 3-week break until the next race to tune the application:
★ Several user interface improvements to ease navigation and content browsing
★ Now all 2013 circuits are shown in the Tracks section
★ Enhanced content sharing options
★ Minor bug fixes (incl. a content display problem in the Results section)
Permissions
THIS APPLICATION HAS ACCESS TO THE FOLLOWING:
YOUR LOCATION

APPROXIMATE LOCATION (NETWORK-BASED)

Allows the app to get your approximate location. This location is derived by location services using network location sources such as cell towers and Wi-Fi. These location services must be turned on and available to your device for the app to use them. Apps may use this to determine approximately where you are.

NETWORK COMMUNICATION

FULL NETWORK ACCESS

Allows the app to create network sockets and use custom network protocols. The browser and other applications provide means to send data to the internet, so this permission is not required to send data to the internet.

YOUR PERSONAL INFORMATION

ADD OR MODIFY CALENDAR EVENTS AND SEND EMAIL TO GUESTS WITHOUT OWNERS' KNOWLEDGE

Allows the app to add, remove, change events that you can modify on your device, including those of friends or co-workers. This may allow the app to send messages that appear to come from calendar owners, or modify events without the owners' knowledge.

STORAGE

MODIFY OR DELETE THE CONTENTS OF YOUR USB STORAGE

Allows the app to write to the USB storage.
YOUR ACCOUNTS

READ GOOGLE SERVICE CONFIGURATION

Allows this app to read Google service configuration data.

FIND ACCOUNTS ON THE DEVICE

Allows the app to get the list of accounts known by the device. This may include any accounts created by applications you have installed.

NETWORK COMMUNICATION

VIEW NETWORK CONNECTIONS

Allows the app to view information about network connections such as which networks exist and are connected.

RECEIVE DATA FROM INTERNET

Allows apps to accept cloud to device messages sent by the app's service. Using this service will incur data usage. Malicious apps could cause excess data usage.

SYSTEM TOOLS

SEND STICKY BROADCAST

Allows the app to send sticky broadcasts, which remain after the broadcast ends. Excessive use may make the device slow or unstable by causing it to use too much memory.

TEST ACCESS TO PROTECTED STORAGE

Allows the app to test a permission for USB storage that will be available on future devices.

AFFECTS BATTERY

CONTROL VIBRATION

Allows the app to control the vibrator.

PREVENT DEVICE FROM SLEEPING

Allows the app to prevent the device from going to sleep.
VERSION:1.2.0
SIZE:9M
SPONSORED