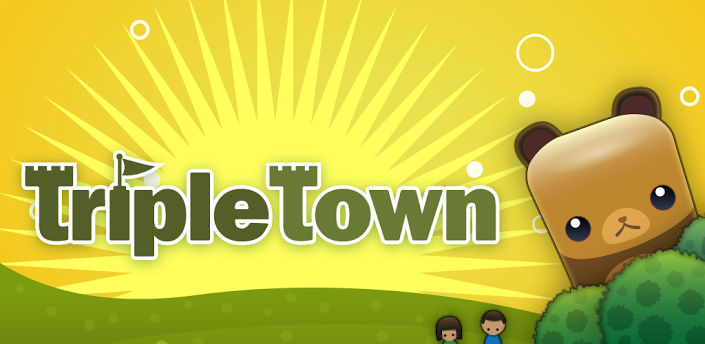 Description
"I had to force myself to quit playing Triple Town in order to write this review, which might give you some idea of just how addicting it is." – Gamezebo.com 5 star review.* Editor's Choice on Google Play!!! 🙂
* Runner up, indie game of 2011 – Edge Magazine
* Runner up, social game of 2011 – Gamasutra.comTriple Town is an original puzzle game in which you try to grow the greatest possible city. The larger the city you build, the more points you score. You build your city by matching three or more game-pieces: combine three grasses to make a bush, three bushes to make a tree… until you've filled the board with houses, cathedrals and castles. Along the way, you'll have to outwit giant bears who will try to block your progress.
SPONSORED

How large can you grow your dream city before the board fills and the game ends?
UNLIMITED TURNS: This game is free, but we need to earn a living somehow. So eventually, after playing for a while, you will run out of turns and will need to wait for them to refresh over time, or you can buy more turns with the free coins you earn in the game. OR, if you love the game and would like to support small independent game developers like us, you can purchase unlimited turns *forever* for a one-time fee. If you do, you can use them on *any* compatible Android device you own (that supports Google Play.) Just install the game on your other Android devices and select "restore unlimited turns" in the game's options menu.
Questions? Comments? Visit http://www.spryfox.com
App Screenshots
What's New
What's in this version:
This update fixes an issue some people were having with loading the game, and re-introduces Google leaderboards and achievements.
As always, please email any problems to [email protected].
Permissions
THIS APPLICATION HAS ACCESS TO THE FOLLOWING:
NETWORK COMMUNICATION

FULL NETWORK ACCESS

Allows the app to create network sockets and use custom network protocols. The browser and other applications provide means to send data to the internet, so this permission is not required to send data to the internet.

PHONE CALLS

READ PHONE STATUS AND IDENTITY

Allows the app to access the phone features of the device. This permission allows the app to determine the phone number and device IDs, whether a call is active, and the remote number connected by a call.

STORAGE

MODIFY OR DELETE THE CONTENTS OF YOUR USB STORAGE

Allows the app to write to the USB storage.
NETWORK COMMUNICATION

VIEW WI-FI CONNECTIONS

Allows the app to view information about Wi-Fi networking, such as whether Wi-Fi is enabled and name of connected Wi-Fi devices.

VIEW NETWORK CONNECTIONS

Allows the app to view information about network connections such as which networks exist and are connected.

SYSTEM TOOLS

TEST ACCESS TO PROTECTED STORAGE

Allows the app to test a permission for USB storage that will be available on future devices.

AFFECTS BATTERY

PREVENT DEVICE FROM SLEEPING

Allows the app to prevent the device from going to sleep.
VERSION:1.88.2
SIZE:19M
SPONSORED