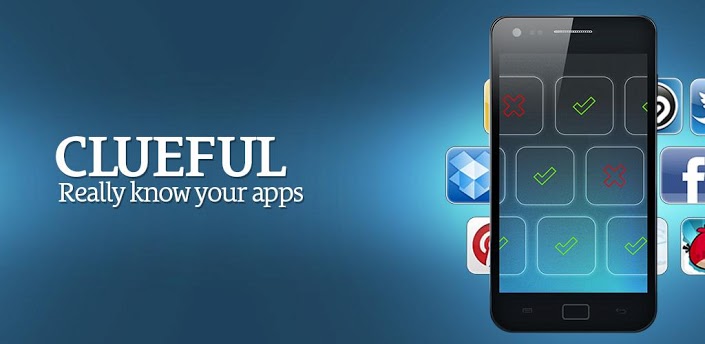 Description
Clueful for Android is a FREE product that shows you how installed apps use, and possibly abuse, your personal information and treat your PRIVACY.You'd be surprised how many things an app can learn about you. Without you ever knowing it.
Clueful is like your own personal "Privacy Consultant" giving you detailed info as to what your installed apps are doing in the background without your knowledge. It checks your apps against Bitdefender's constantly updated Cloud database, calculates your device's "Privacy Score", and then informs you as to which apps are sacrificing your privacy.
SPONSORED

Did you know that apps can:
– Leak your phone number, e-mail address, contacts from address book to aggressive ad networks or third-parties
– Play audio ads while you're on the phone
– Spam you in the notification bar, even if not accessed
– Send your password unencrypted over the Internet, a password that can be easily intercepted
– Upload your calendar
– Read your browsing history, which contains sensitive data
– Read and send SMS with or without your permission, thus incurring charges to your bill
– Intercept SMS
– Make phone calls with or without asking for your permission
– Monitor your phone calls
– Upload your device ID. (This unique ID can be used by developers, advertisers and analytics tools to track your location or behaviour across more than one app)
– Track your location and share it with third-parties
– Access your photos
…and many more. Really know you apps with Clueful!
THE INDUSTRY'S MOST DETAILED ANALYSIS OF APPS
Clueful doesn't only display a list of permissions requested by apps upon install, it goes even further by showing you what apps REALLY do behind your back: leaking your phone number, spamming your notification bar, playing audio ads while on the phone, sending your password unencrypted over the Internet, or even send text messages without asking for your permission!
IMMEDIATELY INFORMS YOU OF ABUSIVE APPS
Bitdefender Clueful monitors apps that you install from the Google Play Store and immediately tells you if they're not respecting your privacy.
PROVIDES AN INDIVIDUALIZED PRIVACY SCORE
Bitdefender Clueful examines the apps on your smartphone and calculates a precise and personal overview of how vulnerable you are, so that you can evaluate and take appropriate actions for each installed app.
ALWAYS UP TO DATE
Clueful utilizes the Bitdefender Cloud to access the very latest information from a growing database comprised of hundreds of thousands of apps that is updated 24/7.
UPGRADE TO TOTAL SECURITY FOR ANDROID DEVICES
Try Bitdefender Mobile Security and you'll gain an array of additional cutting-edge capabilities. This Total Security package includes the on-install & on-demand scanner, real-time scanning of pages you're viewing online, as well as the ability to lock, locate, and wipe your Android device in case it become lost or stolen.
Download the 14-day Trial Version now – http://bit.ly/Aa7ZyO
App Screenshots
Permissions
THIS APPLICATION HAS ACCESS TO THE FOLLOWING:
NETWORK COMMUNICATION

FULL NETWORK ACCESS

Allows the app to create network sockets and use custom network protocols. The browser and other applications provide means to send data to the internet, so this permission is not required to send data to the internet.

PHONE CALLS

READ PHONE STATUS AND IDENTITY

Allows the app to access the phone features of the device. This permission allows the app to determine the phone number and device IDs, whether a call is active, and the remote number connected by a call.
NETWORK COMMUNICATION

VIEW WI-FI CONNECTIONS

Allows the app to view information about Wi-Fi networking, such as whether Wi-Fi is enabled and name of connected Wi-Fi devices.

VIEW NETWORK CONNECTIONS

Allows the app to view information about network connections such as which networks exist and are connected.
VERSION:1.0.152
SIZE:1.6M
SPONSORED