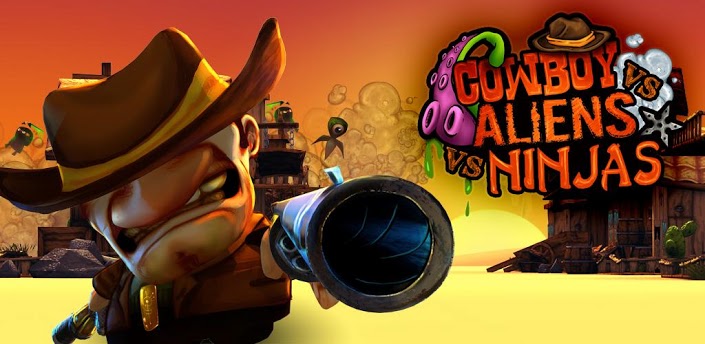 Description
★ TWIN-STICK SHOOTER
Download this exciting twin-stick shooter: 15 upgradeable weapons, 8 enemies and unique scenarios!★ CHUCK WEST
Ninjas and Aliens are taking over the Wild West! Now, the lonely gunfighter known as Chuck West is the last hope to defeat them.Help the fearless cowboy in his mission to wipe out this crazy invasion.
If you think you're badass enough, try your abilities in Survival mode.
★ FEATURES
– Survival and Campaign Mode
– Choose between auto and manual aim
– A variety of explosives in this exciting Twin-stick shooter
– Get new hats to be trendy
– Discover powerfull special alien weapons
– Use different mounts to be faster and stronger
– Earn rewards for keeping the towns free from ninjas and aliens
– Over 15 upgradeable weapons
– Massive waves of intelligent enemies
– Special Bonus Stage
– Three levels of difficulty
★ NOT YOUR AVERAGE COWBOY GAME
Please, note that "Cowboy vs. Ninjas vs. Aliens" isn't your average cowboy game. In this game you fight aliens (Cowboy vs. Aliens!) and ninjas (Cowboy vs. Ninjas!). But you will not fight zombies (Cowboy vs. Zombies) on this version. 🙁
Also, please, do not mistake this game with the movie Cowboys & Aliens, we are not related with them.
If you like cowboy wallpapers, we are working to launch some by the end of the year.
SPONSORED

App Screenshots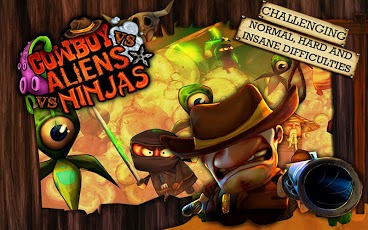 Videos
What's New
What's in this version:
Evolve your arsenal with new powerful items!
Burn out all the enemies with the mighty M1 Flamethrower, and get for free the lethal M45 SubMachine Gun.
A new mythological mount available: Light Pegasus! A gift from the gods to crash the enemies!
From now on, any cash purchase in the SHOP will give you the No Ads feature.
FEATURES:
– New hot weapon: M1 Flamethrower
– Get for free M45 SubMachine Gun
– New mount: Light Pegasus!
– No Ads supported in any cash purchase
– Rebalanced and Fast Gameplay
Permissions
THIS APPLICATION HAS ACCESS TO THE FOLLOWING:
NETWORK COMMUNICATION

FULL NETWORK ACCESS

Allows the app to create network sockets and use custom network protocols. The browser and other applications provide means to send data to the internet, so this permission is not required to send data to the internet.

PHONE CALLS

READ PHONE STATUS AND IDENTITY

Allows the app to access the phone features of the device. This permission allows the app to determine the phone number and device IDs, whether a call is active, and the remote number connected by a call.

STORAGE

MODIFY OR DELETE THE CONTENTS OF YOUR USB STORAGE

Allows the app to write to the USB storage.
HARDWARE CONTROLS

CONTROL VIBRATION

Allows the app to control the vibrator.

NETWORK COMMUNICATION

VIEW NETWORK CONNECTIONS

Allows the app to view information about network connections such as which networks exist and are connected.

RECEIVE DATA FROM INTERNET

Allows apps to accept cloud to device messages sent by the app's service. Using this service will incur data usage. Malicious apps could cause excess data usage.

SYSTEM TOOLS

RUN AT STARTUP

Allows the app to have itself started as soon as the system has finished booting. This can make it take longer to start the device and allow the app to slow down the overall device by always running.

SEND STICKY BROADCAST

Allows the app to send sticky broadcasts, which remain after the broadcast ends. Excessive use may make the device slow or unstable by causing it to use too much memory.

DEFAULT

TEST ACCESS TO PROTECTED STORAGE

Allows the app to test a permission for USB storage that will be available on future devices.
VERSION:1.2.2
SIZE:39M
SPONSORED