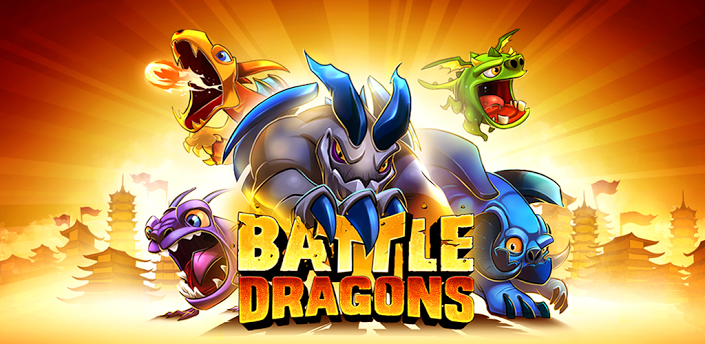 SPONSORED

Description
Command a Dragon Army! Battle hundreds of thousands of other Dragon Tribes worldwide in this Battle & Build game from critically acclaimed Spacetime Studios.***** "A must-have game for your Phone or Tablet!"
***** "Yet another hit for Spacetime Studios."
***** "I love the smell of Battle Dragons fire and brimstone in the morning. And the afternoon. And evening."
If you're reading this, you probably tapped the down arrow in the Description. Thanks, we appreciate your curiosity. We thought you were the type of person that was pretty discriminating about the stuff you put on your fancy mobile devices. So…we wanted to give you some stuff worth reading to help you decide whether or not to install this. SPOLIER ALERT: we think you should.
Here's what you do in this game – pretty simple, actually. You command your army of Dragons as they raze and plunder valuable resources from other players. You use those resources to grow more powerful. You Battle. You Build. You reign supreme.
We think it's pretty fun and it don't cost nuthin'. We had fun making it and hope you have fun playing it. Why not try it? C'mon…tap that install button up there.
Here are some other things we think are cool about the game:
• Build a Dragon Fortress with over 43 different buildings – they're (virtually) real, and they're spectacular.
• Raise an army from 10 different types of booty-kickin' Dragon units that will pillage and plunder as you command. You can upgrade them all too. You'll never get a chance to tell a Dragon what to do in real life!
• Defend your Dragon Fortress with 13 different types of structures that can be upgraded all the way up to bad mamma jamma status – and as J.R.R.R.R.R.R. Tolkien and George R.R.R.R.R.R. Martin so notably wrote, "Bad mamma jamma Dragons are awesome."
• Want to start a Dragon Tribe with friends? Good, you should. You can help each other by speeding up upgrades and boosting production of Gold and Sheep (yes, we said Sheep). Get awesome Dragon stuff faster.
• Join with Facebook friends to help each other do all that speedup and boost stuff we just mentioned – 'cuz that's so much more valuable than looking at photos of what they had for lunch or their kitty cats doing adorable things.
• Your Dragon tribe gets to fight against other Dragon tribes in a leathery winged battle for supremacy. That's a Constitutional right, by the way, not a privilege. That's true – you can look it up.
• Optimized for all the latest displays on all these fancy space age devices we all carry around now. If they're going to go through the trouble of making these things, we might as well take advantage of it, right? Pixels are a terrible thing to waste. Plus it's no fun to squint – unless you are doing some kind of Clint Eastwood impression.
• Oh, and did we mention your Dragons eat sheep? You just can't put a dollar value on that kind of entertainment. But that really doesn't matter since the game is free anyway.
Still reading? What are you waiting for? Install it already – we hope you enjoy Battle Dragons!
App Screenshots
Videos
What's New
What's in this version:
A completely new type of game from critically acclaimed Spacetime Studios!
Permissions
THIS APPLICATION HAS ACCESS TO THE FOLLOWING:
NETWORK COMMUNICATION

FULL NETWORK ACCESS

Allows the app to create network sockets and use custom network protocols. The browser and other applications provide means to send data to the internet, so this permission is not required to send data to the internet.

PHONE CALLS

READ PHONE STATUS AND IDENTITY

Allows the app to access the phone features of the device. This permission allows the app to determine the phone number and device IDs, whether a call is active, and the remote number connected by a call.

STORAGE

MODIFY OR DELETE THE CONTENTS OF YOUR USB STORAGE

Allows the app to write to the USB storage.
YOUR ACCOUNTS

FIND ACCOUNTS ON THE DEVICE

Allows the app to get the list of accounts known by the device. This may include any accounts created by applications you have installed.

NETWORK COMMUNICATION

VIEW NETWORK CONNECTIONS

Allows the app to view information about network connections such as which networks exist and are connected.

VIEW WI-FI CONNECTIONS

Allows the app to view information about Wi-Fi networking, such as whether Wi-Fi is enabled and name of connected Wi-Fi devices.

RECEIVE DATA FROM INTERNET

Allows apps to accept cloud to device messages sent by the app's service. Using this service will incur data usage. Malicious apps could cause excess data usage.

SYSTEM TOOLS

TEST ACCESS TO PROTECTED STORAGE

Allows the app to test a permission for USB storage that will be available on future devices.

AFFECTS BATTERY

CONTROL VIBRATION

Allows the app to control the vibrator.
VERSION:1.0.0.1g
SIZE:5.5M
SPONSORED