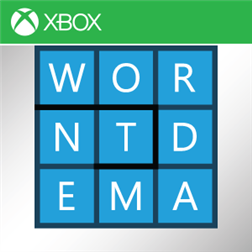 SPONSORED

Description
What's New in Version 2.5
• Login with your Facebook account and play against your friends!
• Share your best scores to networks including Facebook and Twitter.
• Improved stability and performance.
• 15 supported puzzle languages, with more on the way.
• Themes are now independent of your phone! Play in whatever color you like.
Why play against one person in a turn when you can play against thousands at once? Wordament® is a real-time continuous word tournament. Players compete on the same board with everyone at once. Rounds offer challenges such as two- and three-letter tiles, themed words, speed rounds and more. You can be a champion in many ways: find the most words possible, earn the best score, find the longest words, best your Frenemies, or beat your top score. How you win is up to you.
Wordament tracks your progress by maintaining rich statistics about your gameplay including your best word found, total score, best word count, first place finishes and more. Xbox Leaderboards show you who's rocking it for the day, hour and overall. Climb the ranks and earn achievements and bragging rights along the way. Will you be our next champion?
Screenshots
Info
Download size
7 MB
Works with
Windows Phone 8
Windows Phone 7.5
App requires
Xbox
phone identity
owner identity
photo, music, and video libraries
data services
movement and directional sensor
HD720P (720×1280)
WVGA (480×800)
WXGA (768×1280)
Supported languages (23)
češtinadanskDeutschΕλληνικάEnglishEnglish (United States)Español (España, alfabetización internacional)suomifrançaismagyarBahasa Indonesiaitaliano日本語한국어norsk (bokmål)Nederlandspolskiportuguês (Brasil)português (Portugal)русскийsvenska中文(简体)中文(繁體)
SPONSORED