Super Boys – The Big Fight
Description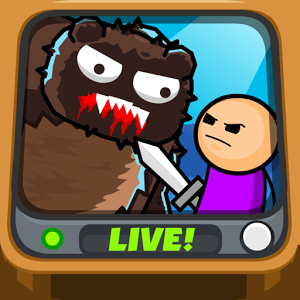 The year is 2019 and everyone's bored of TV, celebrities and games. Everything is inflated.
S U P E R B O Y S – The Big Fight, is an ultra violent TV show where fighters from across the globe form teams that clobber each other to win money, toasters and blu-ray players.
The overpowered Heroes and Bosses of old games are being crushed and have to team up to survive the onslaught against an enemy they cannot defeat, the new Super Boys.
Featuring characters from all of our worlds (Maximus, Toon Shooters, Blackmoor, Bearadise+) and a special appearance by… the Purple Shirted Eye Stabber from Cyanide & Happiness (explosm.net)!
Features:
• 53 unique playable characters (6 types, Warriors, Undead, Toons, Techs, Beasts & Wizards)
• Team building, assemble your own combination of fighters compete for big prizes
• 20 arena maps
• Ascend the Tower (of Big Dreams) , 100+ stages
• Realtime PVP compete for ratings, Tag-Team or FFA (8 Player) – bash your friends up
• Ladder PVP compete for weekly prizes
• Cross platform (Android & iOS) & Cloud saving
• Incredible face smashing music by Matthew Pablo
Recommended
• iPhone 5/iPad3/Galaxy S4 and above
Class Strength vs Weak:
Warrior > Beast > Wizard > Tech > Toon > Undead > (warrior, repeat)
This game does contain a few in-apps, but all content is unlockable through gameplay, just like our other games!
Follow us on social media 🙂
SPONSORED

http://www.facebook.com/mooffgames
http://www.mooffgames.com
http://www.twitter.com/mooffgames
Matthew Pablo is an incredible composer that we had the pleasure to work with. If you want to hear more passionate pieces go check out his site, and even drop him a line.. he's cool dude
http://www.matthewpablo.com
Screenshots
What's New
Controls re-worked/improved
– Energy removed
– Max star count raised to 12
– Live mode unlocked after 1st draft
– Live mode FFA supports up to 8 players
– The premier draft correctly displays 3-4 stars, up from 2-4
– Title screen doesn't scroll anymore, buttons compacted to single screen
– You can now only own 60 fighters via drafting. If you have over 100 fighters it can crash, mail us
– Button swap now correctly remembers you swapped them
– Your HP bar and name appears green
– Typos gone
Permission
Version 1.10 can access:
precise location (GPS and network-based)
modify or delete the contents of your USB storage
read the contents of your USB storage
modify or delete the contents of your USB storage
read the contents of your USB storage
full network access
enable app debugging
view network connections
Size: 23 MB
Version: 1.10
SPONSORED