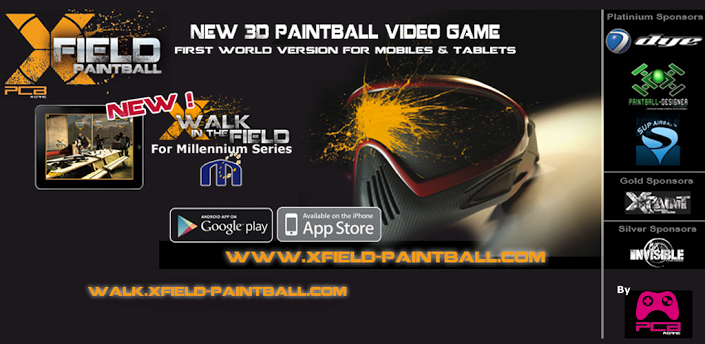 SPONSORED

Description
XFP – XField Paintball ★ ★ ★ ★ ★: The first 3D paintball game for mobile and tablets.Discover the first dedicated 3D paintball FPS, developed by professional paintball actors and supported by brands such as Dye, Sup Air Ball, Paintball Designer, Xpaint or Invisible.
Three game modes are available:
– Quick Play: Time attack, Over shoot or Survival Flag on six different maps: Wood, urban bags.
– Story Mode: Start a progression that will allow you to unlock new areas, gain new markers, to buy high-end balls, …
– Walk in the Field: Try layouts on Millennium, the PSP, the PALS, and tomorrow new circuits in a fully immersive 3D mode, especially with the gyro mode.
★ ★ ★ ★ ★
If you are a Paintball fan, if you want to see upgrades in a FPS without hemoglobin, if you want new crazy features, participate in the adventure of PCB Game, an independent studio invested in the development of the most evolved game of paintball on mobile and tablets.
★ ★ ★ ★ ★
We always offer a free version. Thank you to share, comment, support, give favorable ratings.
★ ★ ★ ★ ★
Send us your requests for new features 
http://www.xfield-paintball.com/support.html
THANKS AND ENJOY;-)
The PCB Game Team.
App Screenshots
Videos
What's New
What's in this version:
Free Beta version to Android devices install.
Full version coming soon 😉
– Bugs fixed
– walk in the Field Mode added for "Millennium Series 2013"
– Add Paintball Features in free version
Permissions
THIS APPLICATION HAS ACCESS TO THE FOLLOWING:
NETWORK COMMUNICATION

FULL NETWORK ACCESS

Allows the app to create network sockets and use custom network protocols. The browser and other applications provide means to send data to the internet, so this permission is not required to send data to the internet.

PHONE CALLS

READ PHONE STATUS AND IDENTITY

Allows the app to access the phone features of the device. This permission allows the app to determine the phone number and device IDs, whether a call is active, and the remote number connected by a call.

STORAGE

MODIFY OR DELETE THE CONTENTS OF YOUR USB STORAGE

Allows the app to write to the USB storage.
NETWORK COMMUNICATION

GOOGLE PLAY LICENSE CHECK

Google Play license check

VIEW NETWORK CONNECTIONS

Allows the app to view information about network connections such as which networks exist and are connected.

VIEW WI-FI CONNECTIONS

Allows the app to view information about Wi-Fi networking, such as whether Wi-Fi is enabled and name of connected Wi-Fi devices.

SYSTEM TOOLS

TEST ACCESS TO PROTECTED STORAGE

Allows the app to test a permission for USB storage that will be available on future devices.

AFFECTS BATTERY

PREVENT DEVICE FROM SLEEPING

Allows the app to prevent the device from going to sleep.
VERSION:1
SIZE:8M
SPONSORED