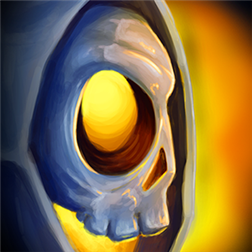 Description
Imagine that you are a floating skull who carries a fireball with a magical chain. Here, Alkekopter is that game you can freely swing a chained fireball/mace against your airborne enemies. An addictive, physics-based game that's easy to learn, hard to master.
SPONSORED

Controls of Alkekopter are quite simple: All you do is drag your finger on the screen; so that you move yourself and control the fireball chained to you. In short time, you will be swinging your deadly weapon as skillfully as a hula hoops artist in a circus! You don't need to put your finger right on Alkekopter, so your finger won't block your vision.
You also have a Nemesis that will keep haunting you. Not only he carries a chained fireball just like you do, but he can also steal the power-ups to empower himself! Don't let that damned creature take the power-ups; especially Bombard won't make you very happy if he ever captures it.
A new boss is introduced to our game with the recent update: A giant skull that shows his love by launching fireballs at you!
We also have a hi-score table where you can compete with other Alkekopter players in the world. Let your name be seen worldwide!
* New enemy type: Colossus! A giant skull that launches fireballs at you
* New scrolling background
* New power-up: Extra fireball
Screenshots
Info
Works with
Windows Phone 8.1
Windows Phone 8
App requires
phone identity
music library
media playback
data services
movement and directional sensor
web browser component
HD720P (720×1280)
WVGA (480×800)
WXGA (768×1280)
Supported languages (2)
English (United States)Türkçe
SPONSORED