Angry Gran RadioActive Run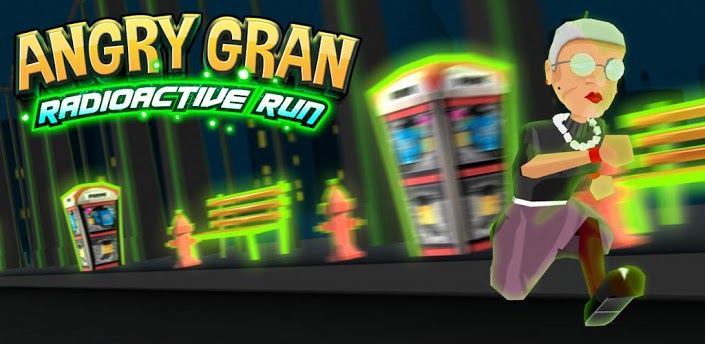 Description
Will Angry Gran get out of the radioactive city alive?You've escaped the asylum in Angry Gran Run and driven the doctors way past the brink of insanity themselves. They've stepped it up a notch and have gone nuclear! Now it's time to escape the radioactive city before Angry Gran becomes Atomic Gran! Dodge, jump, run and slide your way over the nuclear nasties on the last bridge out of town before it's too late!
☢ MODES ☢
= Infinity Mode =
– Run to Infinity… and farther! –
✓ Compete with your friends for the highest, most biohazardous score!
✓ Becomes increasingly difficult the better you are!
✓ Creates a different every time for hours of radioactive fun!
= Random Mode =
– Can you last through the Granny Gauntlet? –
✓ Generates a crazy random level for you to dodge and weave your way through!
✓ Retry the same level over and over until you win or you completely meltdown!
= Mission Mode =
– 21 BI☣hazardous levels of Radi☢active fun! –
✓ 21 intense levels packed with assorted obstacles
✓ Challenging for players of all skill levels
☢ FEATURES ☢
✓ Classy costumes – Unlock awesome costumes to dash over the city in style!
✓ Competitive Leaderboards – Show your friends who is the most
geriatric
✓ Social Integration – Brag and boast when you complete levels and shatter high scores to your Facebook and Twitter minions.
✓ Crazy Graphics – A myriad of bombs, booths, benches, boxes, boom
boxes, bins and other things that don't begin with B to dodge.
Will you get out alive? Find out now for free in Angry Gran Radioactive Runaway!
SPONSORED

App Screenshots
Permissions
THIS APPLICATION HAS ACCESS TO THE FOLLOWING:
NETWORK COMMUNICATION

FULL NETWORK ACCESS

Allows the app to create network sockets and use custom network protocols. The browser and other applications provide means to send data to the internet, so this permission is not required to send data to the internet.

PHONE CALLS

READ PHONE STATUS AND IDENTITY

Allows the app to access the phone features of the device. This permission allows the app to determine the phone number and device IDs, whether a call is active, and the remote number connected by a call.

STORAGE

MODIFY OR DELETE THE CONTENTS OF YOUR USB STORAGE

Allows the app to write to the USB storage.

YOUR APPLICATIONS INFORMATION

RETRIEVE RUNNING APPS

Allows the app to retrieve information about currently and recently running tasks. This may allow the app to discover information about which applications are used on the device.
YOUR ACCOUNTS

FIND ACCOUNTS ON THE DEVICE

Allows the app to get the list of accounts known by the device. This may include any accounts created by applications you have installed.

NETWORK COMMUNICATION

VIEW NETWORK CONNECTIONS

Allows the app to view information about network connections such as which networks exist and are connected.

VIEW WI-FI CONNECTIONS

Allows the app to view information about Wi-Fi networking, such as whether Wi-Fi is enabled and name of connected Wi-Fi devices.

SYSTEM TOOLS

TEST ACCESS TO PROTECTED STORAGE

Allows the app to test a permission for USB storage that will be available on future devices.
VERSION:1.1.6
SIZE:9.8M
SPONSORED