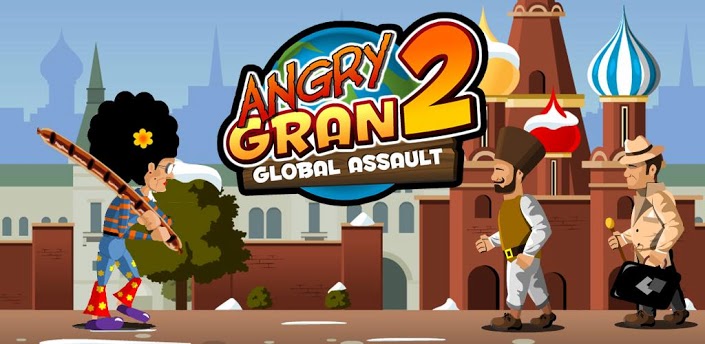 Description
Angry Gran 2Angry Gran goes Global on this whirlwind Global Assault.
GAME LICENSED from Box10.com. Play the original game herehttp://www.box10.com/chav-buster.html
SPONSORED

Do you want to go on a round the world tour and not have to spend a penny?
Why not dress up as a penguin, hit people and steal their money by clobbering them with a novelty toothbrush. Careful you don't hit the policeman because he's a grumpy git and doesn't like being hit with anything other than an Xmas tree.
Short statured newspaper sellers, bandaged mummies, that famous little Italian plumber's lookalike and the occasional bear are all just common-sight in this WHACK-y game
As if that wasn't enough, we've thrown in some zombies and the Grim Reaper for good measure.
Now whap out your rubber chicken, stock up on Get Out Of Jail for nothing cards, give your old dinosaur costume a wash and get ANGRY!
Angry Gran 2 Best free Game has a Very Angry Granny who is know as the angry Gran Around the corner who like to bust up some riff raff!
App Screenshots
What's New
What's in this version:
galaxy s problems fixed!
Permissions
THIS APPLICATION HAS ACCESS TO THE FOLLOWING:
NETWORK COMMUNICATION

FULL NETWORK ACCESS

Allows the app to create network sockets and use custom network protocols. The browser and other applications provide means to send data to the internet, so this permission is not required to send data to the internet.

PHONE CALLS

READ PHONE STATUS AND IDENTITY

Allows the app to access the phone features of the device. This permission allows the app to determine the phone number and device IDs, whether a call is active, and the remote number connected by a call.

STORAGE

MODIFY OR DELETE THE CONTENTS OF YOUR USB STORAGE

Allows the app to write to the USB storage.

YOUR APPLICATIONS INFORMATION

RETRIEVE RUNNING APPS

Allows the app to retrieve information about currently and recently running tasks. This may allow the app to discover information about which applications are used on the device.

CAMERA

TAKE PICTURES AND VIDEOS

Allows the app to take pictures and videos with the camera. This permission allows the app to use the camera at any time without your confirmation.
YOUR ACCOUNTS

FIND ACCOUNTS ON THE DEVICE

Allows the app to get the list of accounts known by the device. This may include any accounts created by applications you have installed.

NETWORK COMMUNICATION

VIEW NETWORK CONNECTIONS

Allows the app to view information about network connections such as which networks exist and are connected.

SYSTEM TOOLS

TEST ACCESS TO PROTECTED STORAGE

Allows the app to test a permission for USB storage that will be available on future devices.

AFFECTS BATTERY

PREVENT DEVICE FROM SLEEPING

Allows the app to prevent the device from going to sleep.
VERSION:1.0.6
SIZE:15M
SPONSORED