B&H Photo Video Pro Audio
Description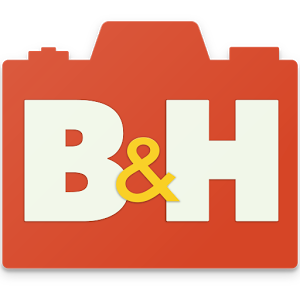 The B&H Photo Video Android App allows users to shop our vast product catalog on the go, in the most convenient, befitting way. View products with high-resolution photos, read professional reviews, get educated on features and specifications, all with an easily accessible, intuitive interface. Our mobile app makes it virtually effortless to browse and search for products, check product availability, and share products with friends and family. As you experience the "on-the-go" B&H experience, remember that B&H's goal is to provide you with a state-of-art environment in which to shop, browse, and learn about the products you love, regardless of whether you shop on our Website, in our SuperStore, or on our mobile app.
Some of our app's features:
➢ Order securely and safely on the fly
➢ Check out using your favorite method: Google Wallet, PayPal Checkout or B&H Secure Checkout.
➢ Go back in time and check an old purchase, with our newly-designed Order History feature.
➢ Read professional product reviews, with detailed descriptions, specs, videos and high-resolution product images.
➢ Add products to your wishlist, share wish lists, and create wish lists, all on the go.
➢ Share a product with a friend on Facebook, Twitter, Google Plus, email, and even SMS.
All in all, the B&H Android App brings new resources to working professionals in the field, and to those preferring mobility. B&H Photo Video appreciates each and every customer, and looks forward to supplying you with the hottest, latest gear and accessories. Our Android app is an extension of our website and SuperStore, and includes reliable speedy shipping, competitive pricing, and excellent customer service, all of which you've grown accustomed to as a customer of B&H Photo Video.
*A Note on Requested Permissions*
Writing to external storage: This allows us to save product manuals for offline reference. We also give you the option to move the app to your SD card, if you choose to do so.
SPONSORED

Camera: This allows you to scan barcodes from the search bar, to find products quickly and accurately. You can also use it to scan your card when checking out.
Identity: This lets you use a Google account to check out quickly.
Location: To better improve your shopping experience. Stay tuned for new location-based features!
Phone Calls: To enable our Customer Service calling feature. Check it out on the bottom of a detail page.
Screenshots
What's New
In this build:
Fixed a crash caused by certain DealZone items.
Previously:
This release features a brand new cart design and a bunch of new features.
•Guest Checkout! You can finally complete your order without creating an account. Of course, we'd prefer if you signed up, but that's up to you…
•Modify credit cards from My Account- just tap on the card you'd like to edit.
•A redesigned full screen login.
•We are also trying out the Google style search bar. Let us know what you think!
Permission
This app has access to:
find accounts on the device
find accounts on the device
approximate location (network-based)
directly call phone numbers
read the contents of your USB storage
modify or delete the contents of your USB storage
read the contents of your USB storage
read the contents of your USB storage
modify or delete the contents of your USB storage
read the contents of your USB storage
receive data from Internet
control vibration
use accounts on the device
read Google service configuration
prevent device from sleeping
view network connections
full network access
Size: 40 MB
Version: 4.2.1
SPONSORED