Description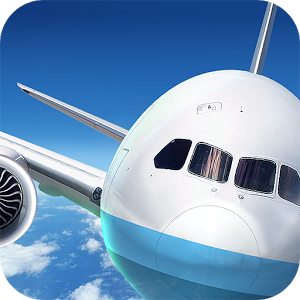 Welcome to AirTycoon 4! – Authentic turn based airline management simulation single player game based on 'Air Tycoon Online 2' which is being loved by world wide players.Basically this version is a demo version. If you want to enjoy the full version, you should purchase an in-app in the game.
Build and manage worldwide airline with detailed statistic management support!
Now, passengers in the world are ready to on board to your airline!
**When 24 turns passed from the beginning and if you want to play continuously,
you need to buy the formal version of this game.
[GAME FEATURES]
– Customized turn based game
– Play and compete with max 24 AI players
– Vivid and gorgeous 3D graphics
– Various game setting
– Include 150 real airplane models and 500 airports world wide
– Diversified airport and route management
– Upgradable airplanes and airports
– Buy and sell used airplanes
– Detailed and various type of map
– Management of passenger and cargo routes
– Historical real time background
– No internet connection needed
[Game Tips for Beginners]
SPONSORED

* Keep lower than 30% of lease planes.
* Open a new route at high business/tour level and less(or no) competitive cities.
* Keep maximize advertisement and service investment.
* Keep lower level of salary as they are satisfied.
* Keep the airplane operating at maximum.
* Make schedules as the same as 'Available schedule by Planes'.
* Adjust airfares always.
– Raise the fare when the occupancy is 100%.
– Down the fare when the occupancy is lower than 70%
* Do not be obsessed on your existing routes.
– Close the route resolutely which has many competitors and do not earn money.
– Find a new undeveloped golden route constantly.
* Minimize Cost
– Minimize office, counters
– Minimize unused slots
– Use fuel tank and buy fuel by wholesale
* Maximize profit
– Run a maintenance depot and lounge on your hub airports (not all airports).
You can save 30% of maintenance cost and increase the business and first class passengers
(An airport having many routes is a hub airport.)
Screenshots
What's New
Several aircrafts' max payload and price has been changed
– A321-200, A320neo, A330-200, A330-300, A340-200, A340-300, A340-500, A340-600, A350-800, A350-900, A350-1000, A380, B767-200, B787-8, B787-9, B787-3, and related cargo versions.
Bug fix for the manage all route function on favorite routes.
Permission
Version 1.3.5 can access:
read phone status and identity
modify or delete the contents of your USB storage
read the contents of your USB storage
modify or delete the contents of your USB storage
read the contents of your USB storage
read phone status and identity
prevent device from sleeping
control vibration
view network connections
full network access
Google Play license check
Size: 24 MB
Version:1.3.5
SPONSORED