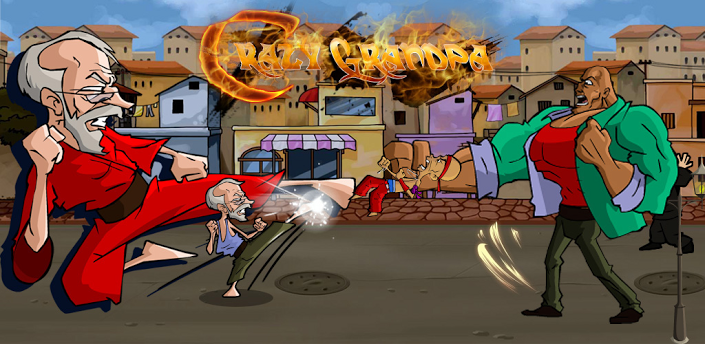 SPONSORED

Description
The comic Crazy Man HD is hitting on Google Play now!
Our lovely Grandpa is a phantom of justice! He wonders on the street and punish gangsters all day long!
Our powerful Grandpa is unstoppable!
Take up your phone and download this side-scrolling fighting game and experience its super fighting skills!Game Description
Crazy Man HD is a side-scrolling fighting game! It is an innovative combination of the deep RPG elements and the attacking action. There are kind of dangerous game scenes waiting for you to challenge in the game, such as street, store, and ruins. You need to control the visual keys to fight, jump and combos, and you can also find varieties of weapons and useful items as well as learn skills.Game Features:
★ Clear and cool comics style!
★ Wonderful combos fighting effects!
★ Great graphics, complicated plot, and smooth special effects
★ Varieties of weapons, items, and skills to upgrade
Join Crazy Man HD to protect the justice!
App Screenshots
Permissions
THIS APPLICATION HAS ACCESS TO THE FOLLOWING:
NETWORK COMMUNICATION

FULL NETWORK ACCESS

Allows the app to create network sockets and use custom network protocols. The browser and other applications provide means to send data to the internet, so this permission is not required to send data to the internet.

PHONE CALLS

READ PHONE STATUS AND IDENTITY

Allows the app to access the phone features of the device. This permission allows the app to determine the phone number and device IDs, whether a call is active, and the remote number connected by a call.

STORAGE

MODIFY OR DELETE THE CONTENTS OF YOUR USB STORAGE

Allows the app to write to the USB storage.

YOUR APPLICATIONS INFORMATION

RETRIEVE RUNNING APPS

Allows the app to retrieve information about currently and recently running tasks. This may allow the app to discover information about which applications are used on the device.
YOUR ACCOUNTS

FIND ACCOUNTS ON THE DEVICE

Allows the app to get the list of accounts known by the device. This may include any accounts created by applications you have installed.

NETWORK COMMUNICATION

VIEW NETWORK CONNECTIONS

Allows the app to view information about network connections such as which networks exist and are connected.

VIEW WI-FI CONNECTIONS

Allows the app to view information about Wi-Fi networking, such as whether Wi-Fi is enabled and name of connected Wi-Fi devices.

SYSTEM TOOLS

ACCESS USB STORAGE FILESYSTEM

Allows the app to mount and unmount filesystems for removable storage.

TEST ACCESS TO PROTECTED STORAGE

Allows the app to test a permission for USB storage that will be available on future devices.

AFFECTS BATTERY

CONTROL VIBRATION

Allows the app to control the vibrator.
VERSION:1.0
SIZE:15M
SPONSORED