Description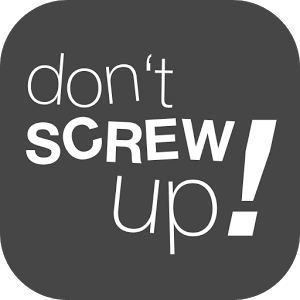 WARNING: This game could insult your intelligence, providing you have some.Want to play nasty or want to play nice? It's your choice. I'm just the moderator, a real sweet-pea, an occasionally cranky game-minder, a vicious, teeth-baring attack-dog… neatly rolled into one.
The rules of engagement are simple. I tell you to 'tap' and you 'tap' your screen. I tell you to 'drag', 'pause', 'count to 10 and tap again' … whatever I say, you follow my written instructions and we'll get along fine. Screw up, and I'll be tapping you. Just as hard as you can take it!
Beat your top score, savage your friends' scores and no one will call you a 'yellow-bellied lizard' again. But you really need to focus, as I'm also a bit chatty, encouraging you, if not disparaging you, at every turn.
Fair warning: 'Don't Screw Up!' will pulverize a fragile ego, whether you score well or not. Please wrap yourself in several layers of thick skin and wear a helmet before entering play.
Screenshots
Permission
Version 1.0.2 can access:
find accounts on the device
find accounts on the device
read phone status and identity
modify or delete the contents of your USB storage
read the contents of your USB storage
modify or delete the contents of your USB storage
read the contents of your USB storage
read phone status and identity
receive data from Internet
view network connections
full network access
use accounts on the device
 Size: 27 MB
SPONSORED

Version: 1.0.2 
SPONSORED