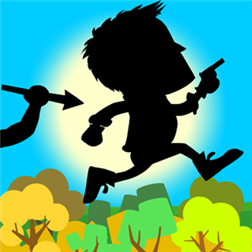 Description
Jungle Escapade is a jungle escape adventure game full of exciting, daring and fun experiences.
John and Jane are treasure hunters and they had a very successful hunt in some pyramid ruins of the Pharaohs in ancient Egypt. They were flying back after loading up their treasure bounty, when their plane had a malfunction and they crash landed in the dense African jungle.
Their treasure load of gold coins, shiny jewels and precious diamonds got scattered in the immense jungle. Now, they have to collect it all over again, at the same time escaping and saving themselves from the pygmies, tribal enemies and the many other challenges in the jungle.
SPONSORED

In jungle the jungle rules applies. Kill or get killed, survival of the fittest are the only rules . Enemies may not know the worth of the jewels but getting the jewels back in the enemies own backyard is no mean task. Kill them all before they get you make food out of you.Kick, push ,or shoot down your your enemies. Make use of your rope swing,gun ,bullet,bombs to eradicate enemies. Keep collecting you lost treasure and running . Dodge the barriers, spears and knifes.
Modes of killing slide-kick,jump-kick ,gun ,bomb ,shoulder push etc.For if you collide you are doomed. Use cool powers like laser gun, bomb etc in you adventure.
Jungle Escapade is a fast paced run and jump platformer action game with slide, kick , jump, shoot,dodge,rope swing,bullet, bomb, gun and other options to help collect your treasure and kill and escape your enemies.
Fun never stops along with the endless supply of enemies and bullets .Run like there's no tomorrow.
Enjoy the endless running adventure with different forests and ruins where explorers have turned hunters.
Help them face these daunting challenges. Have a wonderful escapade.
tags:laser,jewel,plane,crash,endless running,rope swing,gun,enemy,shoot,jump,kill,weapon,slide, best free running game,action game,shooting game,missile weapons,arm,escape,treasure,jewels,gem,reflex,
Screenshots
Info
Download size
5 MB
App requires
phone identity
owner identity
photos library
media playback
data services
movement and directional sensor
HD720P (720×1280)
WVGA (480×800)
WXGA (768×1280)
SPONSORED